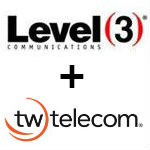 Level3 Communications' plan to acquire TWTelecom, announced today, will create a company better able to target the "very sophisticated" customers that both companies serve and "whose network is a central element of their own growth and efficiency," said Level3 CEO Jeff Storey on a conference call announcing the agreement this morning.
"It builds on our strength in the U.S. market and Level3's strength in the global marketplace," added TWTelecom CEO Larissa Herda on the call.
Level3 serves 170 metro markets worldwide, including 119 in North America, while TWTelecom serves 76 markets located solely in North America. Yet despite the North American overlap in terms of markets served, there is surprisingly little overlap in terms of on-net buildings. Of the 35,000 buildings to which the combined company would have fiber, less than 10% are served by both companies.
Both Level3 and TWTelecom are competitive carriers that got their start during the telecom boom period two decades or so ago – and who both survived the subsequent telecom bust that saw many competitive carriers go out of business.
Level3 initially focused on a wholesale strategy, which traditionally has been a lower-margin business. Over the last decade the company also has also pursued the enterprise market.
TWTelecom has long focused primarily on the enterprise market and has been a pioneer in developing innovative services such as an on-demand offering that lets enterprises increase and decrease bandwidth on the fly.
The merged company will have a 70/30 revenue mix, with enterprise customers representing the majority, the companies said.

The Level3/ TWTelecom Deal
The Level3/TWTelecom news comes just weeks after Comcast announced plans to acquire Time Warner Cable and AT&T said it would acquire DirecTV – and at a time when rumors persist that Sprint will try to acquire T-Mobile.
Not surprisingly, Storey hinted that Level3's plan to acquire TWTelecom may have been made, in part, as a defensive measure in this environment. The combined company, he said, would be a "more powerful competitor in a consolidating industry."
As usual with these sorts of mergers, the companies also expect to see synergies from eliminating redundancies. In this case, redundancies are valued at more than $2 billion.
One example of such redundancies is Herda, who does not plan to stay with the merged company.
The transaction is valued at $7.3 billion, including $1.6 billion of TWTelecom net debt, and is expected to gain required approvals before the end of the year.
One law firm that specializes in representing shareholders already has challenged the terms of the deal. In a press release issued today, law firm Andrews & Springer said it is conducting an investigation into the deal and that the investigation "has so far uncovered that the consideration TW shareholders are expected to receive is inadequate."
Financial details of the Level3/ TWTelecom deal can be found in a fact sheet provided by the companies.