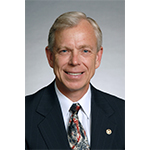 Verizon CEO Lowell McAdam discussed a Verizon 5G wireless roadmap at a conference in New York this week, saying he's already demonstrated the technology to his board of directors. Speaking at the Business Insider's Ignition conference, McAdam said the first Verizon 5G pilot test will commence early in 2016 at Verizon's Basking Ridge, NJ headquarters.
McAdam predicted speeds of 1 Gbps for the Verizon 5G network, although the details of how that will be accomplished were very few and far between.
"This is 200 times improvement in speed," said McAdam, referring to 5G's performance improvement over a typical 4G experience of 5 Mbps in throughput.
True 5G wireless service is several years away, but like with 4G, Verizon appears to be positioning itself to be in the forefront. There are still many issues to be resolved regarding 5G, not the least of which is spectrum management.
The earliest true commercial offer of 5G isn't expected until well into 2017, and even then, its availability will be very limited. True 5G handsets still need to be developed, and 2018 looks more realistic before we see viable, yet still limited 5G service. That being said, 2018 is not that far off.
Verizon 5G Roadmap
McAdam says their New Jersey HQ pilot will be followed with trials for the technology with a limited number of users and partners in the markets of San Francisco, New York and Boston.
Verizon will be an interesting company to watch with regards to 5G. They were first to market with 4G and have managed to build a market leading position as a result. They've managed, for the most part, to meet a market promise of delivering 4G to every one of their previous 3G markets.
Should they follow the same path with 5G, existing Verizon 4G markets may be able to deliver wireless gigabit services by 2020 – that's about four years from now. Wireless and wireline broadband providers in those markets – you've been forewarned.
These early discussions of 5G performance are just that – early, and probably a bit premature. True gigabit wireless service is a ways off, if it ever gets here at all, at least at scale across an entire network. It's doubtful that average wireless performance will provide sustainable 1 Gbps throughput.
There will certainly be distance and capacity constraints that create a lesser broadband experience. But there should be dramatic improvement over 4G, certainly rivaling average wireline broadband speeds, creating a compelling broadband experience, and probably a competitive advantage or two.
"I showed my board the service in November," McAdam said. "You don't ever go to a board with something that's not real."