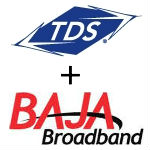 Telephone and Data Systems is "delighted" with how its acquisition of cable company Baja Broadband is playing out and would consider making similar acquisitions in the future, said LeRoy T. Carlson Jr., TDS president and CEO in a question-and-answer session at Stifel Nicolaus 2014 Technology, Internet and Media Conference today.
TDS is seeing a strong growth rate for Baja broadband services and it's a high-margin business, Carlson said. He noted that TDS is seeing a decline on the video side but plans to address that by consolidating its head-end, which will enable the company to add more video channels.
Baja Broadband has "wonderful demographics" and will be a "growing asset well into the future," Carlson said. He also noted that the amount TDS is spending on capex in the Baja Broadband properties is not high in comparison with revenues generated.
When TDS's plan to acquire Baja Broadband was announced in June 2013, the cable company passed 212,000 homes in Colorado, New Mexico, Nevada, Texas and Utah and had 71,000 video subscribers, 59,000 high-speed broadband subscribers and 16,000 digital voice subscribers.


David A. Wittwer, who was TDS's CEO at that time, said the strategy was to leverage TDS's expertise and existing platform and technologies to accelerate growth in underserved, high-potential markets.
The acquisition closed in August 2013.
In considering additional cable company acquisitions, TDS would look for companies with "good demographics" where Verizon's fiber-based FiOS service is not available, Carlson said.