Windstream has seen average revenue per user increase for business and high-speed Internet services, said the company's CEO Jeff Gardner at the Bank of America Merrill Lynch 2013 Leveraged Finance Conference yesterday. Business ARPU increased 5% and high-speed Internet ARPU increased 6% over the past year, Gardner said.
Gardner attributed the increase on the business side to an emphasis on "higher-spending" customers.
"Medium-size multi-location businesses are where our salespeople are focused and where we have the greatest success," said Gardner, reiterating a theme he has emphasized at previous financial conferences.
The increase in high-speed Internet ARPU resulted from customers increasing the speed of their connections – a move that is being driven by increased on-line video streaming, Gardner said.
Speed increases, along with sales of add-on services such as virus protection, contributed to the company's 4% increase in residential broadband revenues. The revenue increase is particularly impressive considering that Windstream actually lost some broadband lines. The company sells broadband to an unusually high 72% of its residential customers – a take rate that may be difficult to maintain as the company faces increased competition.
One factor that may help the company there is that it will gain new broadband customers through deployments made as a result of the broadband stimulus and Connect America Fund programs. Because these projects target remote areas that previously were unserved or had only slow Internet access, Windstream will not face cable competition in project areas and should see high take rates there, Gardner said.
Gardner noted that areas where construction will be funded through the CAF program have an average of eight access lines per square mile, compared with 19 lines per square mile in the company's overall business.
Nearly three-quarters (72%) of Windstream's revenue now comes from business and broadband services and only 14% of revenues come from traditional consumer voice revenues, said Gardner. The company's voice business has been in decline – so much so that Windstream no longer reports access line losses publicly.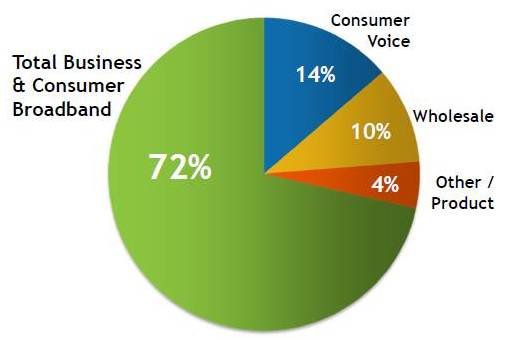 Despite decreases in traditional consumer revenues, however, Windstream has maintained its 38% margin and has a target to increase that to 40%.
Gardner said he believes the company can improve profitability on the business side by reducing its interconnection costs.