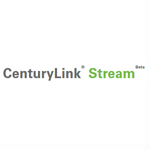 The latest entrant in the growing virtual pay-TV world is CenturyLink Stream, which offers a traditional channel line-up through a streaming OTT solution. CenturyLink has been openly discussing this move for months.
The service is now in beta, and it offers a live channel line-up, video-on-demand, and a cloud DVR, starting at $45 per month. The live channel line-up includes about 48 channels including Disney/ESPN, NBCUniversal, and Scripps networks, among others.
Only ABC and NBC local channels appear to be available, but in limited markets. Regional sports networks include NBC Sports Bay Area, NBC Sports California, Longhorn Network, CSN Chicago, CSN Mid Atlantic, CSN New England, CSN Northwest, and CSN Philadelphia.
There are additional programming packs of Latino programming ($15), kids programming, and lifestyle programming among others. Showtime is also available for $9 month, as are additional a la carte channels.
There is no contract and CenturyLink is offering a free 7 day trial, which is common among the virtual MVPD (vMVPD) community. CenturyLink Stream permits up to three simultaneous streams. The service is open to any subscriber, regardless of their service provider. CenturyLink does offer a $5 discount if you bundle CenturyLink broadband.
[embedyt] https://www.youtube.com/watch?v=EwhYDlO36xc[/embedyt]
Device support includes Android and iOS devices, PC/Macs, Roku devices, and a CenturyLink branded media player that retails for $90. The CenturyLink media player is a 4K capable Android powered IP STB, with 8GB of storage and dual-band Wi-Fi connectivity. A branded media player is a somewhat different strategy than CenturyLink's vMVPD competitors, all who rely exclusively on third party devices for streaming (with maybe the exception of Sony PlayStation Vue which utilizes the PlayStation gaming console in addition to other devices).
It's a growing competitor list, including Sony's PlayStation Vue, AT&T's DIRECTV NOW, DISH's Sling TV, fubo TV, Google's YouTube TV, and Hulu With Live TV. Quite the crowded field. Makes you wonder how many of these vMVPDs can the market support.
It will be interesting to watch the impact CenturyLink Stream has on CenturyLink's IPTV product Prism. Earlier this year, CenturyLink CEO Glenn Post suggested that this OTT product may be being groomed to eventually replace Prism entirely.
"With over-the-top product, we don't have to make a truck roll," said Post at an investor event in February. "We have much wider availability due to lower bandwidth requirements of over-the-top. We have network-based storage for DVR. We'll have local channels to help distinguish that product. And our trial is getting really strong reviews right now. But we have really deemphasized the Prism product because of the margin issue."