CenturyLink is encouraging enterprise customers to use managed services to integrate network security. The company points to a survey of information technology respondents specializing in security that it commissioned from International Data Group (IDG) that found that companies that use third-party services to integrate network security report up to 49% shorter response times to remediate threats.
"A managed solution needs to reduce day-to-day friction," says Chris Betz, CenturyLink chief security officer, in a video about integrated network security included with a press release about the IDG research. "Our users expect security to be a seamless part of their experience. If security is making employees' jobs harder, they will find ways to go around it."
Four Key Managed Services
IDG researchers asked respondents about the benefits of using four types of managed services, including threat intelligence, security information and event management (SIEM), cloud-based distributed denial-of-service (DDoS) mitigation and managed firewalls.
As the researchers explain, managed threat intelligence offers an advantage over internal threat intelligence because it turns threat intelligence into actionable insights. Companies that have used third-party managed threat intelligence have seen 45% to 49% faster response time to remediate threats, according to IDG.
Managed security information and event management (SIEM) is a "core technology that monitors, analyzes and correlates data logs for anomalies and potential cyberthreats," an IDG white paper about managed integrated security explains. According to the white paper, a key advantage of using a third party to manage this capability is that doing so can provide context.
"Something might look odd within your enterprise's data, but it's normal for your industry," explains Betz in the white paper. A managed service provider can "look for anomalies against what's happening across industries and communities," he adds.
Respondents to IDG's survey that have used managed SIEM report a 34% reduction in the average time required to detect problems, and 32% said their threat responder workload decreased when they used managed SIEM.
Managed cloud-based DDoS mitigation can help companies address increasingly sophisticated DDoS attacks, IDG says. The researchers note, for example, that while a DDoS attack in the 1990s might have used 150 requests per second, the number of requests per second in today's attacks can exceed 1,000 Gbps.
According to survey respondents, using managed cloud-based DDoS can yield a 50% to 52% improvement in the speed to restore service.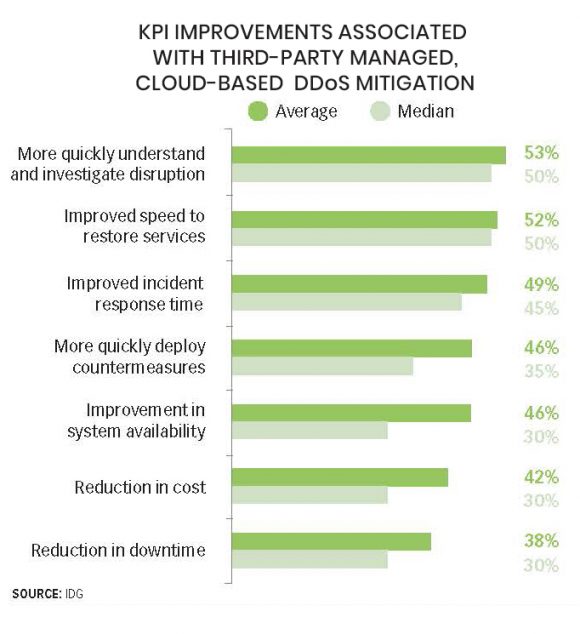 Firewalls have become more complex as companies have expanded to the cloud, requiring consistent policies across endpoints, IDG notes. Survey respondents that use managed firewalls reported 50% to 53% faster notification for high-priority firewall events and a 40% to 49% faster response to investigate firewall events.