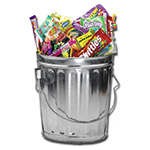 CenturyLink year-over-year revenue declines of approximately 2% during the second quarter of 2018 were due, in part, to the company's decision to offload unprofitable business, said Jeff Storey, CenturyLink president and chief operating officer, on the company's earnings call yesterday. He had a colorful way of describing the CenturyLink strategy.
"We do not focus . . . on empty calorie revenue; that is contracts or services with very low or no margin," said Storey, according to a conference call transcript from Seeking Alpha.
CenturyLink Strategy
Storey said he firmly believes that "growing free cash flow per share is a key driver to increasing shareholder value" and shedding unprofitable or barely profitable business is key to achieving that, along with driving a great customer experience and investing capital to drive growth and reduce operational costs.
He pointed to two examples of "empty calorie" revenue that CenturyLink has shed. Last quarter, he said, CenturyLink noted that it was discontinuing its linear and over-the-top consumer video products. He also pointed to certain specific customer contracts that CenturyLink Executive Vice President and Chief Financial Officer Sunit Patel referenced on the earnings call.
Patel noted that the company terminated an "unprofitable government contract" in the enterprise business unit and renegotiated "a large contract" with a European Global Accounts customer that "reduced revenue but will improve EBITDA performance."
Storey pledged to continue to evaluate CenturyLink's existing business and move away from unprofitable revenue.
Despite the revenue hit, Storey said, "our focus is to align our time, our capital and our resources to our more highly profitable opportunities." He added that focusing on higher margin revenue is "another lever to effectively align our sales team, improve adjusted EBITDA and grow free cash flow."
CenturyLink is not alone in scaling back its video business. Video providers have complained for years about escalating content costs that have eroded margins and some have decided to de-emphasize the business. That strategy has worked particularly well for Cable One, which now claims to have the highest margin in the cable industry.
The decision to phase out CenturyLink's over-the-top video business as well as its linear TV business was a bit of a surprise, however. The OTT video offering was launched less than a year before the decision was made to phase it out and the company had said it believed OTT was key to broadband growth.
The company doesn't necessarily have to have its own OTT video offering to achieve that goal, however. I would expect to see it making deals to provide OTT video offerings from other companies — if the terms offered meet CenturyLink's minimum margin requirements.
Image courtesy of flickr user wyn lok