Updated August 5
While some network operators have been announcing future gigabit service launches and pondering where to build out the ultra-high-speed broadband service next, CenturyLink apparently has been stealthily deploying the service in numerous markets in its ILEC service territory. The company announced today that it has begun offering symmetrical gigabit service to residential and business customers in seven new markets and to business customers in an additional six markets. The company previously announced gigabit service in three markets, bringing the total number of markets where it offers both residential and business gigabit broadband to 10.
"While some providers talk about bringing broadband speeds of 1 gigabit per second to their customers in the future, CenturyLink is delivering these speeds today to thousands of residential and business customers," said Shirish Lal, CenturyLink senior vice president, in today's announcement.
According to the release, hundreds of thousands of additional residential and business customers will have access to gigabit services within the next 12 months.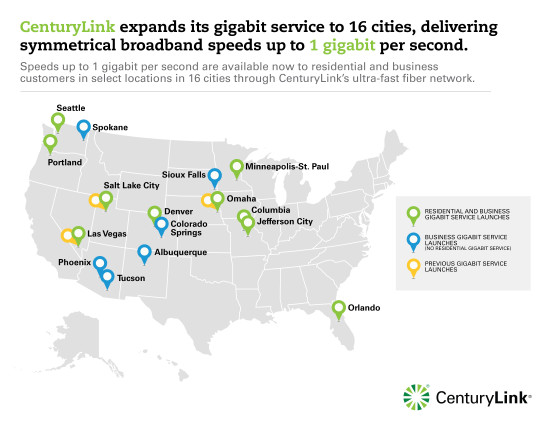 Not surprisingly one of the markets where CenturyLink has begun offering service to both residential and business customers is Portland, a market that Google has been considering for gigabit service. Other markets getting both types of service are among CenturyLink's largest, including Minneapolis-St. Paul and Denver.
CenturyLink Gigabit
A visit to CenturyLink's website shows pricing starting at $79.95 monthly for three years of gigabit service in Denver when the service is sold as part of a bundle.
Perhaps it's not surprising that CenturyLink is being so aggressive in deploying gigabit service. Unlike the nation's two larger telcos – AT&T and Verizon – CenturyLink doesn't have a wireless business and instead must rely on business services and broadband for growth. The launch of gigabit service should enable them to leapfrog cable competitors on data rates. Cablecos are expected to start deploying gigabit service next year when the latest generation of DOCSIS technology becomes available. But CenturyLink may still have a leg up in that its offering will support symmetrical gigabit service, while cable companies generally offer asymmetrical service with speeds that are lower on the upstream side.
The 10 markets where CenturyLink now offers residential and commercial gigabit service are:
Columbia, Mo.
Denver
Jefferson City, Mo.
Las Vegas
Minneapolis-St. Paul
Omaha
Orlando
Portland
Salt Lake City
Seattle
The six markets that are currently receiving business gigabit only are:
Albuquerque
Colorado Spring, Colo.
Phoenix
Sioux Falls, S.D.
Spokane, Wash.
Tucson, Ariz.
 Update: Also today AT&T said it will expand its GigaPower ultra-high-speed broadband offering to the City of Houston and to Overland Park, Kan.