CenturyLink has set a goal of bringing broadband service supporting speeds of at least 40 Mbps to 50% of its base by the end of 2018, said Tony Davis, head of investor relations for CenturyLink, at a financial conference today. Although CenturyLink has done some fiber-to-the-home deployments to support speeds as high as 1 Gbps, CenturyLink broadband plans will rely largely on upgrading existing copper loops using a mixture of bonding and vectoring, depending on a customer's distance from a fiber connection. The company also expects to use G.fast technology to serve multi-dwelling units.
Davis made his comments at the Oppenheimer Technology, Internet and Communications Conference, which was also webcast.
Meeting its goals will require CenturyLink to spend a higher percentage of its budget on the network than in the past. To free up the funding, the company expects to take a "capital-light" approach toward investment in the cloud, IT services and managed hosting, Davis said. The company also is looking at selling some of its data centers – an increasingly common move among the larger telcos – but if it were to do so, it would lease space from the new owner to support its existing hosting business, according to Davis.
CenturyLink Broadband Plans
Upgrading broadband speeds has become increasingly critical to telcos as consumers demand higher-speed services to support streaming video and other high-bandwidth services.
Currently "where we have 20 megabits and higher, we're adding customers," commented Davis. Upgrading to 40 Mbps should be "very competitive" moving forward, Davis said.
In its top 25 markets, CenturyLink expects to see at least 80% of customers receiving speeds of 40 Mbps by the end of 2018. And by the end of 2019, the company expects to have 11 million households capable of receiving 100 Mbps within its territory, including three million homes capable of receiving speeds as high as 1 Gbps.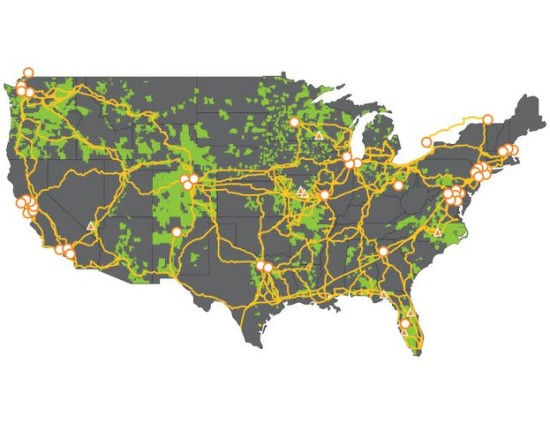 A single copper pair can support speeds of 40 Mbps over a distance of up to 2,500 feet, Davis said. With two bonded pairs, the distance doubles to about 5,000 feet. And if vectoring is added, the distance is "close to 8,000 feet," said Davis.
CenturyLink's decision to potentially sell some data centers was not motivated solely by a desire to free up funding for network investment. The company also believes this will help support what Davis called a "multi-cloud, multi-hosting" strategy to serve customers who want to use multiple cloud providers.