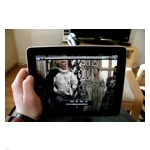 Two major telcos expressed interest today in possibly reselling AT&T over-the-top (OTT) video offerings launched last week. In separate question-and-answer sessions, company executives outlined current Frontier and CenturyLink OTT video plans, but also said they might be interested in a wholesale relationship with AT&T involving the AT&T OTT video offerings.
CenturyLink is trialing an OTT video product that the company developed internally, said the company's CFO Stewart Ewing at the UBS Global Media & Communications Conference, which was also webcast. "We didn't know AT&T was trialing one too, otherwise we would have talked with them about potentially reselling their [offering] and we may very well do that," Ewing added.
Ewing's comments may have been what inspired a UBS financial analyst to ask Frontier EVP and CFO Perley McBride if he would see Frontier developing an OTT video product internally or licensing AT&T's offering, to which McBride responded "We would look at all options."
DIRECTV NOW Resale?
An AT&T spokesperson declined to comment on whether AT&T has plans for any DIRECTV NOW resale effort, which would appear to be the AT&T OTT video offering that would have the greatest appeal to other service providers as it most closely resembles traditional pay-TV service.
That service was launched at a special introductory price of $35 for 100 channels – a price the carrier said it would strive to continue indefinitely for those signing up promptly for the service but which is scheduled to jump to $60 after an introductory period. Financial analysts had questioned whether AT&T could make a profit at the $35 price, and that suggests there would be little or no room for a wholesale offering at that price. But perhaps there would be more room for AT&T to act as a middleman at the $60 price point.
CenturyLink OTT Video
Ewing said he sees OTT video as a means of expanding CenturyLink OTT video wherever the company offers service at speeds of 10 Mbps or higher. That, he said, would include markets where the company does not expect to offer its traditional Prism pay-TV service because that service requires a broadband connection supporting speeds of at least 25 Mbps.
CenturyLink already has been trialing OTT video but initially that offering was limited to Prism pay-TV markets because of contractual obligations with content providers. Apparently the company now has renegotiated those deals and plans to launch the version suitable for 10 Mbps markets in early 2017.
Margins apparently will be tight on this offering, as Ewing said "we expect to make some money on this" but added that "we think it's more what consumers will be looking for" and that "what we're really interested in is driving broadband growth."
Ewing noted that the product will be a "skinny bundle" with fewer channels than traditional pay-TV offerings. He also noted that it will be "app driven from a smart TV with a Roku device" and will have local channels. Of the local channels, Ewing said, "we think that at least for some time that may be a differentiator for our product."
Frontier OTT Video
Regarding Frontier OTT video plans, McBride said "whatever the consumer wants, we're there to support that."
Frontier will continue to offer traditional pay-TV through the infrastructure the company obtained from AT&T and Verizon, he noted, adding that the company has expanded the Verizon FiOS-style pay-TV offering, renamed "Vantage," to three new markets. In addition, Frontier will continue to offer direct broadcast satellite video through its deal with Dish Network.
"If the customer does want an OTT solution like AT&T's solution, we would support that as well," said McBride.
Frontier last year launched Freedom TV – a hybrid video offering that combines over-the-air local broadcast TV with OTT services and DVR functionality as an alternative to pay-TV service targeting cord cutters.