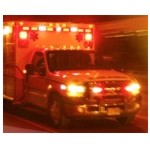 As we were expecting, the FCC announced today that it has fined CenturyLink for a 911 outage that occurred in April. In addition the FCC fined Intrado, provider of cloud-based 911 software which contributed to the outage according to an FCC investigation.
CenturyLink's fine is $16 million, while Intrado will pay $1.4 million. According to an FCC press release, "the varying settlement amounts reflect the different numbers of emergency call centers served by each provider."
Verizon and CenturyLink 911 Outage
Verizon, which lost service in parts of California during the April 2014 outage, previously agreed to pay $3.4 million in a settlement related to the outage. CenturyLink's fine involves outages in Washington, Minnesota and North Carolina.
Although Intrado software played a role in the outages at all 81 of the public safety answering points involved in the April 2014 event, the company was only fined for PSAPs in Florida, Pennsylvania and South Carolina where it is the direct provider of 911 service.
TDM-to-IP Pitfalls
The April 2014 911 outage represents the downside of converting the nation's telecom infrastructure from a traditional TDM-based approach to one based on IP. As the FCC noted several months ago when it released the results of its investigation into the April 2014 outage, IP gives service providers the ability to centralize key functionality such as 911. The positive side of this change is that service providers can minimize costs, add advanced capabilities and simplify network upgrades. The downside is that a system error, such as what occurred in the Intrado cloud, can have a much greater impact.
As a result the FCC is considering new requirements for 911 service including requirements aimed at improving situational awareness during a 911 outage and others.