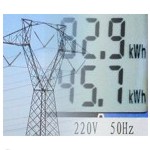 Utilities are increasingly using public cellular networks to support the real-time data communications of smart grid systems deployments, according to a report from Pike Research.
The ubiquity, increasing data capacity, throughput and responsiveness of public cellular networks around the world makes them suitable, often in conjunction with private networks, for the machine-to-machine (M2M) communications infrastructure of smart grid systems, according to Pike's "Public Carrier Networks for Smart Grids" report.
"Public wireless networks are emerging as a more important complement to private utility communication networks," said Pike Research research director Bob Gohn. "Few utilities will rely on just one network, but cellular connectivity will be an important part of the mix in neighborhood area networks and wide area networks for smart meters, as well as other key applications like distribution automation, substation automation, and mobile workforce communications."
Growing utility adoption of public wireless networks in smart grid applications will drive the shipment of 73 million cellular M2M communication nodes from 2011 through 2020, Pike forecasts. Revenue will reach $1.9 billion during the forecast period.


Global unit shipments are expected to peak at 10.7 million units annually in 2015, coinciding with a peak in smart grid neighborhood area networks (NANs) for smart meter connectivity. Unit volumes will gradually decline thereafter, to 8.2 million NAN nodes annually by 2020.
3G network technologies, including UMTS/HSPA and EV-DO will make up some 54% of the total cellular M2Mnode market in the smart grid sector, according to Pike's research. 2G air interface technologies, such as GSM/GPRS/EDGE and 1xRTT will make up 25%, despite their age.
Emerging 4G network technology will be the fastest growing segment for the smart grid market, with LTE networks forecast by Pike to capture a 19% share of the total utility market over the forecast period. WiMAX networks will account for 2% of the public carrier market for smart grid applications.