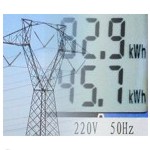 One of the largest U.S. deployments of cellular connectivity to support smart grid communications is underway at Consumers Energy, which serves about 1.8 million customers in Michigan, including some sparsely populated areas. The company's territory includes the majority of the lower peninsula of Michigan measured by geography.
"Because of operational challenges, we arrived at cellular as the main technology," said Matt Gilmore, director of enterprise architecture and standards at Consumers Energy on a webinar sponsored by SmartGridNews.com yesterday.
Consumers Energy considered wireless mesh and point-to-point solutions as well as cellular but after considering a wide range of criteria the company decided that cellular would be the lowest cost option that would meet those criteria. Another consideration was that Consumers Energy had no experience in building and maintaining a communications network.
"Public carriers offer sufficient coverage in our territory," said Gilmore, noting that AT&T, Sprint, Verizon and several other wireless network operators have been enlisted to support the deployment. Roaming agreements are a critical element of those plans.
Consumers Energy liked the fact that various organizations already exist to certify interoperability between CDMA and GSM devices. But one of the challenges has been that some meters do not have coverage.
"We need to figure out how to get repeaters to them," Gilmore said.
An important consideration for Consumers Energy was that it wanted all customers to have the same level of functionality—and considering that the project is expected to span eight years, that's no small challenge. Another challenge was that, unlike some smart grid projects, Consumers Energy did not receive any grant funding.
Consumers Energy plans to invest $6.4 billion in Michigan in the next five years.
Also on the SmartGridNews webinar was Joseph Ho, an executive in Qualcomm's R&D Group, who argued that cellular is a better alternative for smart grid communications than mesh or powerline-based alternatives. Key advantages of cellular include low latency, high data rates, high reliability, ubiquitous coverage, robust security, low cost, high scalability and a standards-based approach, Ho said.