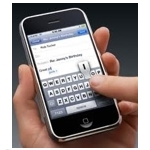 Nearly all small business mobile device users (94%) believe their mobile devices make them more efficient, according to results from a new survey released by technology solutions provider CDW LLC. Some two-thirds (67%) believe their companies would be less competitive without them, "which may explain why IT managers reported that 89 percent of their employees use personally-owned mobile devices for their work," said technology provider CDW LLC in an announcement of the findings.
The benefits of mobility extend beyond small business employees to owners and customers, CDW found. Sixty percent of small business mobile device users said that mobile device use lead to improved communication between field and office personnel as well as increased availability to customers, which resulted in better customer service.
Small business users surveyed consider productivity and mobile business apps to be "game changers that make them more efficient and competitive," said CDW Vice President- Small Business Jill Billhorn in the announcement.
As a group, small business mobile device users are on the lookout for more in the way of mobile apps specific to their businesses and fast-growing tablet use is contributing to rising small business mobile technology usage, added Billhorn.
Along with expanding demand comes greater need for managing and securing mobile devices and networks. Only one-fifth of small business IT managers responding to the survey said their companies had implemented such a solution, CDW noted.
CDW's "2012 Small Business Mobility Report" includes "findings specific to five industries with a high potential to benefit from mobile innovation: construction, food services, manufacturing, professional services and retail."