More than one in four–26.6%–of American households relied solely on wireless telephony for voice communications as of this year's first half, a 2.1% increase from a year ago, according to indications from the National Health Interview Survey (NHIS).
One in every six–15.9%–received all or nearly all their calls on wireless phones even though they had a landline. The NHIS provides "the most up-to-date estimates available from the federal government concerning the size and characteristics of these populations, according to a news release.
The 2.1% year-over-year increase in 2010's first six months is similar to the 1.8% increase in wireless-only homes between H12009 and H2 2009 and the 2.5% increase between H2 2008 and H1 2009, according to the NHIS.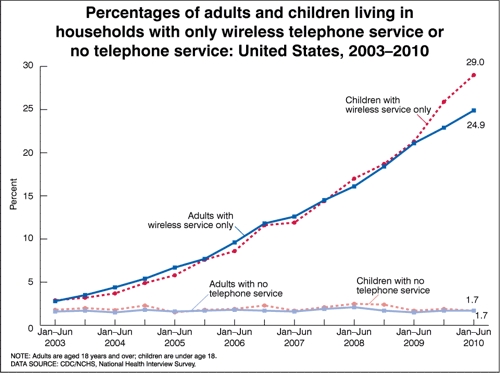 Additional findings from the research include:
51.3% of adults aged 25-29 lived in wireless-only households, the first time the number of adults in wireless-only households surpassed the number in landline households in any age range.
Some 24.9% of all adults–approximately 57 million of them–lived in households that only had wireless telephones while 29%, or more than 29% of all children, did the same.
Two in five adults aged 18-24 years (39.9%) or 30-34 years (40.4%) lived in wireless-only households.
Wireless-only household percentages progressively decreased in groups from ages 35 and up.
47.1% of adults renting homes were wireless-only as compared to 15.5% of adults in homes they owned.
26.2% of men as compared to 23.7% of women lived in wireless-only homes.
39.3% and 32.9% of adults living in poverty or near-poverty, respectively, lived in wireless-only households.
At 15.9%, Northeasterners were the least likely to live in wireless-only households. More adults in the South (29.3%) did so than any US region.
At 34.7%, Hispanics were more likely than non-Hispanic white adults (22.7%) or non-Hispanic black adults (28.5%) to be living in wireless-only households.
The percentages of adults and children without any phone service over the past three years have remained relatively unchanged. Some 2% of households had no phone service. "Nearly 4 million adults (1.7%) and 1.2 million children (1.7%) lived in these households," according to the NHIS.
The NHIS is a program of the Centers for Disease Control (CDC), which tracks voice cord cutting developments because of their implications on tracking health and disease trends.