Investment in certain Citizens Band Radio Service (CBRS) equipment will pass $1 billion in 2023, according to a CBRS equipment forecast from SNS Telecom & IT. Equipment studied includes LTE and 5G new radio (NR)-based CBRS radio access network (RAN) infrastructure.
The United States' three-tier approach to creating an infrastructure for shared use of the 150 MHz of CBRS spectrum, which is in the 3.5 GHz band, is set after years of regulatory, standardization and technical activities, the firm notes.
The lead player as CBRS commercialization leaves the gate and gains momentum is the 3GPP cellular wireless ecosystem. The sector is using the spectrum both for LTE and 5G New Radio (NR) network build outs in thousands of cell sites following the FCC's full commercial deployment (FCD) and completion of the Priority Access License (PAL) auction, SNS says.
SNS said mobile network densification, at 53% of small cell shipments, is the dominant CBRS use case today. It is followed by fixed wireless (24%), neutral hosts and private cellular networks (15%) and cable operators and new entrants (8%).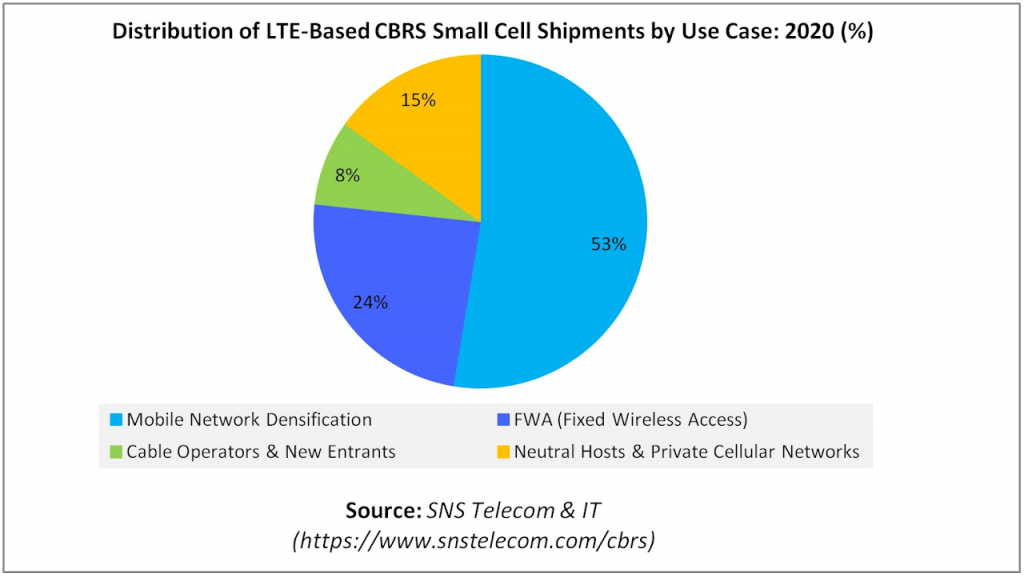 By the end of the year, the firm predicts that annual investment in LTE and 5G NR-based CBRS RAN infrastructure will be more than $300 million. The firm says that the compound annual growth rate (CAGR) will be approximately 52% between 2020 and 2023.
SNS said that NR deployment in the CBRS band lays the groundwork for next-generation services that require high levels of throughput, latency, reliability, availability and connection density. These services include industrial IoT applications such as connected production machinery, mobile robotics, automated guided vehicles and augmented reality-assisted troubleshooting.
According to the CBRS equipment forecast, the CBRS market development "remains largely unfazed" by the COVID-19 pandemic with the exception of specific enterprise and vertical submarkets.
A total of $4.5 billion was raised in the CBRS auction. The biggest spender was Verizon, which pledged $1.9 billion for 557 licenses in 157 counties. Dish, which pledged $912.9 million, was the big winner in terms of licenses. It went home with 5,492 licenses in 3,128 counties.
Clearly, coverage is an attractive driver today. In a September webcast, wireless Internet service provider (WISP) Watch Communications said it was seeing speeds of 100 Mbps or more over as much as six miles in rural areas. Amplex Internet said CBRS was covering distances between two and four miles in line of sight conditions.