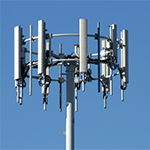 One more milestone that had to be achieved before network operators can begin offering service in the CBRS band has been reached. Federated Wireless said today that it has completed deployment of a sensor network to provide CBRS environmental sensor capability (ESC). ESC is a requirement for proper functioning of commercial wireless network equipment operating in the CBRS spectrum band, which will be shared with existing military users, explained Federated President and CEO Iyad Tarazi in an interview with Telecompetitor.
According to Tarazi, Federated is the first company to complete a CBRS environmental sensor network deployment. At least one such network must be in place before network operators can begin offering service in the CBRS band.
"The sensors are tested and certified and the network is up and running," said Tarazi. "What we're waiting for [now] is for the FCC public notice that says initial deployment can begin."
Tarazi expects to see that happen later this month or early next month.
The CBRS band includes mid-band frequencies between 3.55 and 3.7 GHz. Operators are expected to use the band for both mobile and fixed service. In addition, enterprises and other entities are expected to use the spectrum for private networks.
About half the CBRS band is slated for unlicensed use and could be put into commercial operation when the FCC issues the public notice. The remainder is slated for an upcoming auction, which according to FCC Commissioner Michael O'Rielly, is now expected to occur in the second quarter of 2020 or later.
CBRS Environmental Sensor Capability
Commercial network operators already are sharing spectrum with TV broadcasters in lower-frequency bands known as TV white spaces, but that type of spectrum sharing was easier to implement. The main function of spectrum access systems operating in that band is to use a database system to check whether spectrum has been licensed to a broadcaster in a geographic area and, if not, the spectrum is made available for use by wireless internet service providers or others on an unlicensed basis.
Sharing spectrum in the CBRS band is more complicated because the spectrum is used by the U.S. Navy along coastlines. Where the spectrum is or is not available for use by commercial operators cannot be determined by a simple database. Instead, a sensor network must be deployed along coastlines to determine where the navy is using the spectrum, Tarazi explained.
The sensor network will work in combination with a spectrum access system (SAS) to assign CBRS equipment to frequencies within the band that are not in use by the military. After the CBRS band auction, the SAS will also be responsible for keeping track of where specific frequencies are in use by licensees.
Federated and several other SAS vendors have undergone a testing process and FCC approvals are expected soon. Any SAS operator also will need an ESC network before it can provide service.
It would seem that we might see SAS suppliers sharing ESC networks, but Tarazi said that as of now, Federated has no SAS providers as wholesale customers for its ESC network.
Other pieces that had to fall into place before CBRS could become a commercial reality included testing and certification of base stations and end-user devices. And while some of that work is still in progress, more and more manufacturers are gaining the necessary approvals.
A portion of the CBRS band is not used by the military and is already in use by wireless internet service providers (WISPs) and others on an unlicensed basis. The WISPs are expected to begin using a greater portion of the band when it becomes available. In addition, some WISPs are expected to participate in the CBRS auction.
Meanwhile, some stakeholders are looking at other wireless spectrum that could be made available for commercial use on a shared basis with incumbent users. A Federated Wireless presentation points to several swaths of mid-band spectrum that could be potential candidates for this approach.
Updated