Any day now, the FCC is expected to issue final approval for fixed and mobile service providers and end users to deploy service in the CBRS spectrum band. One company that has a rather comprehensive view on this is Federated Wireless, which will provide spectrum access service (SAS) and environmental sensor capability (ISC) to numerous entities that plan to make CBRS deployments, including Verizon, Charter, wireless internet service providers (WISPs) and others. Telecompetitor talked to Federated Chief Technology Officer Kurt Schaubach about what to expect.
The CBRS band includes 150 MHz of spectrum between 3550 and 3700 MHz. About half of it is slated for auction beginning in June 2020, but the other half will be available for unlicensed use on a shared basis with the U.S. military, which uses a portion of the band intermittently along coastlines. SAS and ESC technology will determine where and when that spectrum is in use by the military, which will have priority access, and when the spectrum is available for unlicensed use.
Stakeholders initially expected the CBRS band to be ready to support commercial deployments sooner, but the government shutdown earlier this year delayed that process. The upside, however, is that six handsets are now available for operation in the CBRS band from several manufacturers, Schaubach said. A CBRS handset from Apple is expected soon.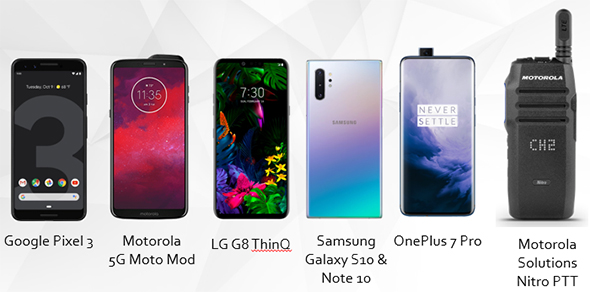 Verizon, Charter CBRS Deployments
Verizon plans to use the CBRS band on an unlicensed basis to support mobile service and Charter will use it to support both mobile and fixed service, Schaubach said.
"Verizon will use CBRS for carrier aggregation," Schaubach told us. The company will combine some of its licensed spectrum with unlicensed spectrum in the CBRS band to boost the speeds that it can provide. Noting that it will take Verizon a while to refarm existing spectrum for 5G, Schaubach said Verizon sees CBRS, in combination with dynamic spectrum sharing, as a platform to get to 5G.
Charter's current mobile offering relies on reselling Verizon service and, where possible, using Wi-Fi. Using the CBRS band on an unlicensed basis will put Charter on the path to gaining owner's economics, Schaubach said.
In addition, he expects to see Charter use CBRS to offer fixed wireless service using an "edge out" strategy in areas near where the company has wireline infrastructure.
Boosting WISP Speeds
WISPs already have been providing fixed wireless service using a portion of the CBRS band that was already available for unlicensed use. These companies focus on rural areas where higher-speed wireline options are not available. Some of the WISPs have deployed equipment that can be upgraded to use more of the band once it becomes available for commercial deployment, which should boost speeds.
As Schaubach noted, WISPs also should be able to gain better economics than they have had in the past by using CBRS equipment based on LTE technology, enabling the WISPs to gain economies of scale that weren't possible with proprietary technology.
Schaubach shared results from Tier 2 cable and broadband provider Midco, which has been deploying fixed wireless LTE base stations in the CBRS band mounted atop a grain elevator. Midco has been able to achieve speeds of 100 Mbps downstream and 20 Mbps upstream over distances as great as eight miles when line of sight is available and over distances up to four miles when line of sight is not available.
When line of sight is available, Midco has seen speeds of 238/27 Mbps over distances up to four miles.
Smart Cities
Schaubach also sees CBRS as a more economical alternative to Wi-Fi for smart city applications. A key limitation of Wi-Fi is that its performance is not as predictable as that of CBRS options, he said. By offering more predictable performance, CBRS technology will enable smart cities to be designed in a more efficient manner, underpinned by edge computing that will provide artificial intelligence and signal processing, he said.