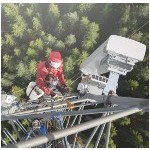 The CBRS auction bid total has now exceeded $3 billion. The fast-paced auction started just over two weeks ago, and already proceeds have exceeded the amount that some pundits expected the entire auction to raise.
Just Friday we reported that the auction had raised $2 billion as of the previous day.
And the previous $1-billion-milestone was hit just four days before that.
CBRS spectrum is considered mid-band spectrum, which is in high demand as many industry stakeholders see it providing the optimum mixture of speed and coverage for 5G.
CBRS Auction Bids
All three major wireless carriers – AT&T, T-Mobile and Verizon – qualified to bid in the auction and so did a wide range of other entities, including smaller wireless carriers, cable companies, fixed wireless providers, wireline providers looking to offer fixed wireless and more.
Spectrum in the CBRS band lies between 3550-3700. About half the band is already available for unlicensed use. The remainder is included in the ongoing auction, known as Auction 105.
Seven licenses, each for 10 MHz of spectrum, are being auctioned on a county-by-county basis.
The news that CBRS auction bids hit $3 billion came just one day after the Department of Defense and the White House said they would make an additional 100 MHz of mid-band spectrum available for commercial use, and the FCC said it would promptly organize an auction of that spectrum.
The spectrum is adjacent to the CBRS band, lying between 3450-3550 MHz, and the news of its impending availability should further boost the appeal of the CBRS band, as carriers would be able to further boost speeds and capacity if they can gain spectrum in both bands.
Citing financial analysts, a news report from LightReading yesterday noted that bidding in some major metro areas – including Chicago and Houston — appeared to have "settled," but still had farther to go in other major metros, including New York and southern California.