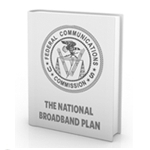 The man who was charged with crafting a plan to bring broadband to all Americans isn't happy about the way that plan is being implemented.
Currently with the Aspen Institute, Blair Levin headed up the team at the FCC that three years ago created the National Broadband Plan with the goal of spurring broadband deployment. But in a speech last week, Levin said, "The FCC is becoming more of a political institution and less an expert agency."
Like other D.C. political institutions, he said, the commission is "increasingly caught up in a one-note narrative . . . of self-praise rather than focusing on providing the expertise and analytic agility necessary to adjust programs to provide bandwidth abundance to constituencies it is meant to serve."
In an interview with Telecompetitor on Friday, Levin directed further criticism at the FCC's self-praise. "I would never invest in a company that had a CEO who behaved that way," he said.
Work undone
It was up to the FCC to implement the ideas recommended in the National Broadband Plan – and the way Levin sees it, much of that work has been left undone.
One of the most important pieces of information to emerge out of the NBP was that the majority of the homes that can't get broadband are in areas served by the nation's largest price cap carriers – and that hasn't changed much, he told Telecompetitor on Friday.
Although he noted that CenturyLink is doing some upgrades, he said "AT&T is doing zero, and Verizon sold some lines to Frontier but they're not doing anything with what they held on to." (AT&T would disagree with Levin's assessment, having touted its rural network upgrade plans last fall. But it's true that those plans rely heavily on mobile broadband rather than a fixed offering.)
Levin also argued in his recent speech that the FCC essentially "punted" on "the critical issue of contribution reform." In other words, the FCC's new broadband-focused Universal Service program appears to be doomed to be funded as a percentage of carriers' long-distance voice revenues – a methodology that is becoming increasingly unsustainable as long-distance voice revenues decline.
When I asked Levin what he'd like to see happen on that front, however, he declined to offer a specific suggestion. Instead, he said the commission should pull a lot of ideas together and run a proceeding. (The FCC has avoided taking even such an apparently innocuous step – perhaps because it would then be expected to take action and, politically, it is afraid of taking any action on that controversial issue.)
Singing a different tune?
When the NBP was released, Levin made some enemies among rural telcos because of some of the Universal Service reforms proposed in the plan. The fundamental point of contention was that in targeting to bring broadband to unserved price cap territories without increasing the size of the fund, the corollary was that rate of return carriers would have to get by on less.
Over the past three years, the FCC has implemented some of the reforms proposed in the NBP – although not exactly as the NBP proposed. And some readers might be surprised by one of the things Levin said in another recent speech.
"In those areas where the fund was already driving broadband investment, reform has stalled progress," he said in Madison, Wisc. on April 4. He even cited a recent survey of small rural phone companies showing that 69% of respondents have cancelled or postponed investments due to uncertainty about restructuring.
On the bright side
Now that he's gotten so fed up with the feds, Levin is focusing his attention outside D.C. His pet project these days is Gig.U – an effort to spur the deployment of ultra-high-speed broadband in university communities that has had several important successes.
Levin also has offered up a couple of interesting ideas recently about how we might spur broadband deployment and adoption at the state and local level.
One idea would be to take a small amount of money from the Universal Service program and use it to drive a "race to the top" approach to broadband deployment and adoption by rewarding states that make the most progress. He pointed to a similar program he said was successfully implemented by
Education Secretary Arne Duncan.
"The real genius of what Duncan did was he used federal government money appropriately to cause a bunch of activity in the states [and he had] a very positive effect," said Levin on Friday.
Levin also sees promise in the idea of using ultra-high-speed broadband to anchor institutions to help spur the deployment of broadband wireless equipment that would extend broadband deeper into the community.
In another speech on April 15 in Dallas, Levin suggested the real momentum on broadband lies far from the Beltway. "We have reasons to have faith that mayors and governors, university presidents and CEOs of our major research hospitals, entrepreneurs and large businesses will come together to find a way so that we can lead in creating . . . abundance for their communities, for our country and the world," he said.