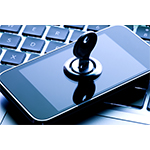 ZenKey, a platform developed by mobile carriers, aims to enhance mobile authentication. The Mobile Authentication taskforce comprised of AT&T, Sprint, T-Mobile and Verizon plans to announce details about the platform later this month at MWC Los Angeles.
ZenKey is designed to make it easier for mobile users to log in by eliminating passwords. Zenkey is also designed to provide added protection for service providers who want to keep passwords as one security factor but who also want to have a more secure second or third factor than SMS one-time-PINs.
ZenKey aims to let app developers and service providers leverage the platform to authenticate their customers more effectively and securely with methods like biometric verification.
"As a service provider to the carrier community for over 10 years, LiveXLive has worked hand-in-hand with the members of the taskforce to optimize the mobile experience for our users," said Robert Ellin, chairman and CEO of LiveXLive, Inc, in a prepared statement. "ZenKey allows us to collaborate once again to streamline the mobile user registration and subscription multi-factor process while enhancing the security and data privacy of consumers on our next generation streaming platform.
Details about ZenKey will be demonstrated at Mobile World Congress Americas (October 22-24) in Los Angeles and Money 2020 (October 27-30) in Las Vegas and development specifications will available to developers then. More details about ZenKey may be found at Myzenkey.com.
"Enhancing security often means adding steps or complicating processes. Conventional wisdom says heightened data security isn't convenient, and that's why it has seemed to be out of reach. ZenKey shows the industry it doesn't have to be that way," said Alex Sinclair, chief technology officer, GSMA. "It simultaneously gives consumers the ability to more securely direct the flow of their own data while making it easier to access mobile applications they're already using."