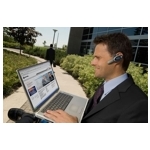 Mobile operators see Voice-over-LTE (VoLTE) providing an effective means of driving revenue growth and countering competition in voice and video calling from over-the-top (OTT) service providers, according to new market research conducted by Ovum for iBasis.
VoLTE is gaining traction among the mobile service providers surveyed by Ovum for iBasis's white paper, entitled, "Voice and Video Calling Over LTE." A KPN company, iBasis provides international voice telecommunications and "value-added services for many of the world's largest fixed and mobile operators, as well as voice-over-broadband service providers."
Carrier VoLTE Survey
The ability to enhance users' experience was cited by over 80 percent of survey respondents as a key factor in enhancing mobile operators' competitiveness vis-a-vis OTT voice and video calling service providers.
Two-thirds view VoLTE as the key to offering mobile service subscribers a new and better set of voice and data services, including RCS (Rich Communications Suite). Fifty-seven percent of survey respondents anticipate that implementing VoLTE "will allow them to deliver voice services far more efficiently due to the technologies' greater spectral efficiency," according to iBasis's white paper.
"Voice will continue to remain relevant, but operators need to develop new voice opportunities for the future," Ovum Senior Analyst Nishi Verma Nangia was quoted in a press release. "VoLTE will be a crucial step forward, in order to offer an improved end-user experience, and it will enable operators to compete against the growing threat of OTT voice services.
"As operators plan to launch VoLTE services across their domestic markets, they should prepare their networks to extend the same user experience to their roaming customers as well. International VoLTE could be a significant opportunity for operators to provide strong service and quality differentiation to end users."
Mobile operators need to establish clearly defined VoLTE deployment and service strategies in order to fully realize the technologies' full potential, added iBasis CTO Ajay Joseph. "As mobile network operators (MNOs) around the world roll out their 4G/LTE networks, many want to expand their service portfolios to include VoLTE.
"It's critical to define the best approach to ensure the best voice experience while maximizing capital and operating expense efficiency. By establishing the right interconnect and roaming model, mobile operators can leverage the benefits of an all-IP infrastructure and position themselves for long-term success in the international LTE marketplace."