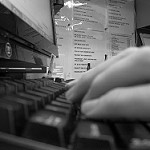 A new survey from 451 Research on carrier provided subscriber email services identified some important opportunities for service providers to enhance subscriber satisfaction — if only the service providers would adjust their approach toward the email accounts they provide subscribers. The study was commissioned by Nominum, which specializes in developing subscriber-driven DNS applications.
The balance of power between communications services providers (CSPs) and subscribers continues to shift in favor of the latter as alternative means of connecting and engaging in network communications continues to expand, 451 highlights in the report's executive summary. CSPs need to make fundamental adjustments in order to adapt and succeed in a market that's now characterized by subscribers that are always connected and expect on-demand, self-directed network and services engagement anywhere and at any time, according to 451.
Carrier Provided Subscriber Email: Competing with Gmail
Among the key findings, CSPs that provide email services are finding it difficult to vie with the likes of third-party providers, such as Gmail, that incorporate sophisticated message filtering capabilities and other helpful features in their email services offerings. The large majority of communications received by CSP email service subscribers are ineffective, according to the study results. Furthermore, more than half of respondents to the communications services provider email subscriber survey (53%) said that important emails wind up in spam folders.
451 also found that a big gap exists when it comes to CSP email adoption and use among age groups: 83% of respondents 55-65 said they had a CSP email address as compared to just 3% of those 20-24.
Nearly one quarter (22 percent) of CSP email subscribers said they never check their accounts. Forty percent said they only check their account monthly.
In addition, 62 percent said they receive too many emails from businesses. That shoots as high as 81 percent among 20-25 year old's.
Despite the bad news, 451 found some important opportunities for service providers to enhance subscriber satisfaction by rethinking their approach to email and by enhancing subscriber communications with in-browser messaging.
Late Payment Notifications
More than 8 in 10 respondents (83%) said they want to be reminded when they are late paying a bill, which can save them time and money by avoiding late fees and reconnection charges. Researchers noted that these types of alerts can enhance subscribers' perceptions and satisfaction by incorporating features that enable subscribers to recover past due accounts by clicking through to a payment portal, as well as encouraging opt-in of paperless billing and auto-pay services.
Service Appointment Notifications
Another type of alert that subscribers are interested in receiving from their CSP is proactive notifications of outages and upcoming service appointments. Doing so would improve CSPs' relationships with subscribers and promote brand loyalty, according to 451. According to the survey results, 83 percent of CSP email subscribers said such notifications were important.
Additionally, an impressive 86% of respondents said in-browser messaging is important for security alerts and advice on how to fix problem.