Canadian regulators have declared broadband a universal service and have set an ambitious target speed of 50 Mbps downstream and 10 Mbps upstream. The Canada broadband universal service plans call for transitioning an existing $100 million annual voice-focused fund to broadband and making additional funding of up to $750 million available over the first five years of the new program.
The news comes as the U.S. struggles with budget issues that threaten to derail broadband deployment goals previously set by the FCC. Unlike Canada, the U.S. did not make additional funding available when it established broadband deployment goals but instead attempted to fund broadband deployment using the same level of funding previously allocated to support voice service.
Broadband universal service goals in the U.S. also are less ambitious than Canada's. U.S. target broadband speeds are between 4/1 Mbps and 25/3 Mbps, depending on deployment costs.
Both U.S. and Canadian regulators have said broadband goals should include mobile service, but details remain to be resolved in both countries.
Canada Broadband Universal Service
Despite the funding injection, however, it's not clear whether Canada has allocated enough money for its broadband universal service program on an ongoing basis. Traditionally, high-cost areas have required some funding on an ongoing basis to maintain prices at levels that are comparable with those in urban areas.
In sheer dollars, the Canada broadband universal service budget (including existing and new funding) is smaller than the equivalent U.S. budget, which is about $4 billion annually for price cap and rate of return carriers. Even taking into account the fact that Canada's population is about one-tenth that of the U.S., the budget for the Canadian program is less on a per-capita basis.
Canada's speed target also creates a larger gap to close. According to data from the Canadian Radio-television and Telecommunications Commission (CRTC), 18% of Canadians lack access to broadband at speeds of 50/10 Mbps. According to a January 2016 FCC report, only 10% of people in the U.S. lacked access to the U.S. target speed of 25/3 Mbps – although that rose to 39% in rural areas.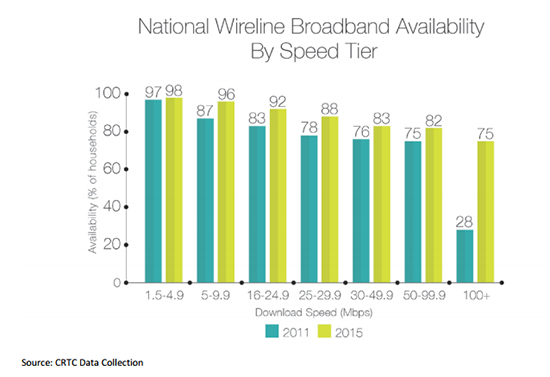 In populous Canadian provinces such as Ontario, Quebec and British Columbia, the percentage of residents that have 50/10 Mbps service available to them meets or exceeds the national average. But in more rural provinces such as Saskatchewan and Prince Edward Island, only 47% and 52% of the population, respectively, can get 50/10 Mbps service. And in two of the country's three most northern territories, percentages are even lower. In remote Nunavut, no one has 50/10 Mbps service available to them.
Other details of Canada broadband universal service plans include:
Funding will be awarded on a competitive basis and will be managed by a third party with CRTC oversight
Applicants will be able to submit funding proposals to build or upgrade access and transport infrastructure for fixed and mobile wireless broadband
Applicants will be required to provide a minimum amount of investment for their projects
The amount of funding from public and private sources must be commensurate with the nature of the project
For the first five years, up to 10% of annual funding will be allocated to satellite-dependent communities to cover operational costs and certain related capital costs