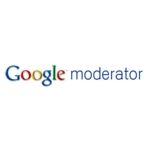 Looking to cast as wide a net as possible in the search for good ideas, Google and the New America Foundation have launched a website, using Google Moderator, through which anyone can submit ideas that may wind up being considered by the FCC as it strives to come up with a National Broadband Plan that it can deliver to Congress by a February 2010 deadline.
The two organizations have teamed up for this effort in support of the FCC's call for "maximum civic engagement" in developing a national broadband strategy.  Google set out its own vision as to how to best make broadband Internet available and affordable for all Americans to the FCC two weeks ago.
Google and New America will review all the submissions and submit the most popular and innovative to be recorded on the official FCC record on the author's behalf.
"Google and the New America Foundation agree that public participation in this process is critical. Expanding access to broadband has the potential to transform communities across the country, spark economic growth, and restore American competitiveness.
"Now that the Commission has officially opened this proceeding, and with a new Chairman at the helm, we think it's time to give people the opportunity to learn about the issue and to weigh in with their thoughts," Richard Whitt, Google's Washington Telecom and Media Counsel wrote on the company's Public Policy Blog.