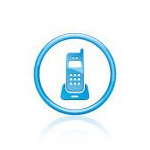 Time Warner Cable now has four million telephone subscribers, making them the sixth largest telephone company in the U.S. by their estimation. Cable companies are no stranger to saber rattling concerning their digital phone prowess. Comcast has issued a press release or three toting their position in the top ten phone company rankings by access line. Comcast now claims the third spot.
Give these companies credit. They have executed their triple play strategies quite well and are inflicting deep gashes into access line counts of traditional telco competitors. But will their gains be short lived? Wireless substitution doesn't discriminate, so now the fun begins for these 'telephone upstarts.' While cable has seen rapid growth in voice telephony, their work will be cut out for them to maintain those impressive line counts over the long term. Subscribers are increasingly evaluating the need for a voice wireline. Most wireless substitution effects are attributed to traditional telcos. But cable companies will feel that substitution heat too, especially when those initial cable triple play bundle promotions run their course and corresponding monthly bills begin to creep up.
Cable is attempting to address this issue with wireless strategies of their own. But Time Warner and Comcast's strategy of reselling WiMAX services won't produce a legitimate voice product for some time. Cox is going the more traditional 3G wireless route, probably giving them a more legitimate voice product sooner. But Cox is years away from having a footprint wide wireless product and Comcast and Time Warner are probably behind them. In the mean time, all of them will more than likely have trouble sustaining these initial telephony gains.