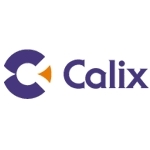 Calix tomorrow plans to release the first of what the manufacturer is calling the "Calix U.S. Rural Broadband Report." The report, which Calix plans to issue quarterly, is based on data collected from 45 U.S. service providers located primarily in rural areas and it aims to offer insight into how rural customers—in the aggregate–are using the Internet.
"We're tracking at a very deep level—by the endpoint in the network as well as at the application level," said Calix Senior Director of Corporate Marketing Geoff Burke in an interview. Data is collected using Calix's Compass Flow Analyzer which, Burke said, provides information about the types of applications that customers are using without involving deep packet inspection.
A key finding, Burke said, was that "about 5% of users account for 50% of Internet traffic." But rather than using a punitive approach and imposing a data cap on these customers, Burke advises service providers to use data from the Flow Analyzer to steer heavy users toward alternative service offerings tailored for their needs.
The report notes, for example, that the majority of customer endpoints with the heaviest bandwidth usage are heavy users of video streaming. "A package that targets a superior video streaming experience may offer the service provider the opportunity for an up-sell, and the subscriber with a better experience—a potential win-win for both parties," writes Calix in the report.
Alternatively, Calix suggests that a customer with high sustained upstream capacity use is likely a telecommuter or home business, while a user with sporadic high upstream capacity use is likely to be an online video game player. Here, too, the company suggests that "targeted proactive service packages" can be constructed that "cater to these audiences."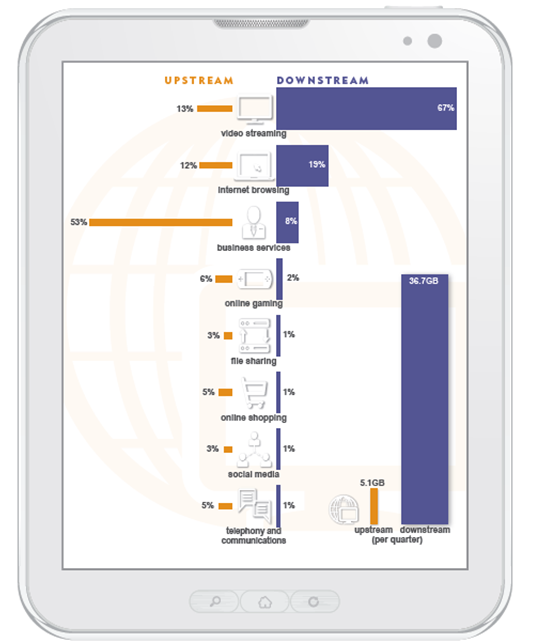 Other key findings of the Calix U.S. Rural Broadband Report:
Streaming media represents more than two thirds of downstream Internet traffic among U.S. rural service providers and Internet browsing represents another 19% of downstream traffic.
Google dominates browsing traffic, with 71.8% of all downstream and more than 61.5% of upstream browsing traffic, followed by Bing which had upstream and downstream numbers of 15.6% and 24.2%, respectively.
Business services generate more than half of upstream Internet traffic. Business traffic is primarily characterized by its unique security and authentication applications such as virtual private network (VPN) and encapsulating security payload (ESP) as well as desktop emulation software such as Microsoft Terminal. VPNs represent 66.9% of downstream and 37% of upstream business traffic.
Although video gaming only represents 2% of downstream and 6% of upstream traffic, those numbers climb to 32% and 58%, respectively, when gaming communications are active—a reality Calix attributes to the quality of the graphics involved.
File sharing represents just 1% of downstream and 3% of upstream traffic. BitTorrent dominates this market with more than 93% of the traffic in both directions.
Other applications with relatively low bandwidth usage include online shopping, social media and "telephony and communications," with each representing only about 1% of total downstream traffic. Upstream traffic percentages for those applications were 5%, 3% and 5%, respectively.
Amazon dominates online shopping traffic, with an 87.7% share of downstream traffic, while Facebook dominates social media traffic with an 86.4% downstream share.
Calix also noted some regional differences. Northeasterners are most likely to shop online, while those in the Southeast are most likely to use online gaming. Meanwhile, Midwesterners have the highest level of business traffic and Westerners have the highest level of video streaming.
In its report, Calix speculates about what might be behind some of these trends—for example associating the West's predilection for video streaming to its proximity to Hollywood. But I'm wondering if the West coast streaming phenomenon isn't related to differences in time zones and the fact that so many sports teams are on eastern and central time.
Burke said that was a good point and one that Calix may have an opportunity to explore in its next quarterly report when the company plans to add data about how traffic varies by time of day.
What Calix is doing with its rural broadband report is not unprecedented. Akamai has used a similar approach – albeit on a grander scale — in creating quarterly Internet traffic reports based on data collected through its content delivery infrastructure located worldwide.