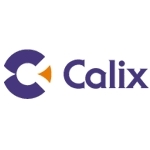 Broadband access supplier Calix released its latest U.S. Rural Broadband Report, the second in its ongoing series that reveals the broadband usage of rural consumers served by their broadband service provider customers. The report now summarizes data captured from 50 U.S. broadband carriers who primarily serve rural markets and is based on data received during the first quarter of 2012. The data examines the broadband habits of 100,000 "subscriber endpoints" across broadband networks served by ADSL2+, VDSL2, GPON, and point-to-point gigabit Ethernet access technologies.
One of the more interesting findings of the report involves broadband speeds in rural America. According to the report,"… the most common peak downstream broadband rate consumed was between 1.5 to 3 Mbps …" A telling statistic in a time where many carriers are pushing 50+ Mbps offers, at least in their marketing campaigns. By Calix's measure, 60% of rural broadband subscribers received a maximum downstream broadband speed of 3 Mbps or less. By comparison, Akamai conducts similar research to Calix, but on a broader national scale, and their latest report covering 4Q11 pegs the average U.S. broadband downstream speed at 5.8 Mbps. Calix reports that some rural communities do have access to speeds that peak at over 100 Mbps, with even a few reaching 1 Gbps.
Calix's data comes from a mix of broadband service providers, including privately and publicly held entities and cooperatives from every region of the country. They ranged in size from 1,000 to 50,000 subscriber lines, with 6,500 subscriber lines as the average
The report also discusses application usage among rural consumers, through the examination of 180 different applications, up from 130 in its first report, which looked at 4Q11 and was released in April of this year. As was this case then, video streaming was the most popular broadband application in rural America, representing 64% of downstream traffic and 15% of upstream traffic.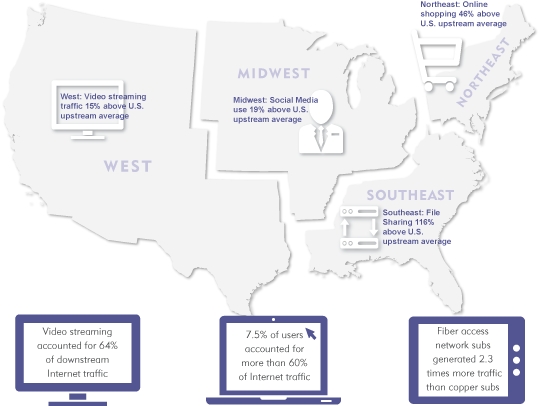 Additional usage findings from the 1Q12 report include:
Microsoft Bing climbed among search engine users with 13 percent of the Internet Browsing downstream traffic in the quarter, while Yahoo! usage declined to 2.2 percent.
Application use varied across different regions of the U.S. in Q1:

In the West, video streaming traffic was 15 percent above the U.S. upstream average.
Social media remains strong in the Midwest with usage 19 percent above the U.S. upstream average.
Online shopping continued to fare well in the Northeast with usage of 46 percent above the U.S. upstream average.
The Southeast outpaced the rest of the country in file sharing, 116 percent above the U.S. upstream average.
Interesting usage patterns also emerged from the data. The majority of Internet traffic originates with a minority of users. For copper based access networks, 7% of endpoints generated 55% of the total downstream traffic on the network, at an average of 231 GB of data per month. For fiber based networks, it's even more pronounced with 8% of the endpoints generating 65% of the downstream traffic, at an average of 333 GB per month.
You can download the full report here.