Sponsored Content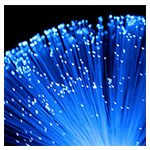 Much of the early internet was built on the backbone of copper connectivity. This copper network could easily support both essential voice services and the initial demand for bandwidth. More importantly, it made financial sense.
Our industry now recognizes the vastly different consumer expectations for bandwidth that exists today, compared with those early days of broadband. With the already high number of connected devices expected to grow thanks to the true emergence of the Internet of Things, and the emergence of even higher-bandwidth demand applications, service providers are responding. That response increasingly includes migrating to fiber broadband.
Overbuilding networks with fiber gives network operators a path to the future – a future that includes 5G, virtual reality, telemedicine, and applications that aren't even yet imagined. There are known costs for this transition to fiber including engineering, construction, and material costs.
But there are also costs that are not as evident when delaying this transition to fiber broadband. Maintaining a copper network is expensive, significantly more so than operating a passive optical network. Copper networks bear significant indirect costs as well. They potentially contribute to a poor customer experience, especially when faced with competition from more powerful networks including DOCSIS-based HFC networks.
An Essential Service
Like electricity and telephone before it, broadband has become an essential service. This reality has become increasingly evident in recent extreme weather events. Hurricane Sandy in the northeast completely wiped out some community's networks, causing them to be completely rebuilt.
Luckily, many of those networks were rebuilt with fiber, saving some potentially regrettable investment in legacy copper networks. The results are compelling. The new fiber-based networks are delivering 60% better operational savings and are between 70% to 90% more reliable than the copper networks they replaced.
More recently, Hurricane Harvey flooded much of metropolitan Houston. This extreme weather event revealed important lessons for communications networks. Full optical communications infrastructure was largely unaffected by this storm, with connectivity restored rather quickly once power was restored. Copper-based facilities would have needed much more rehabilitation in the wake of this massive flooding.
The move to fiber makes more sense every day. Whether preparing for the future and the next-generation high-bandwidth applications it brings or improving your network's resiliency in the face of growing extreme weather occurrences, fiber-based networks are the right solution. Network operators can rest assured that they are prepared for whatever the next 50 years may bring and have the ability to best monetize their network investments.
Let's talk about it. Connect with Barry Walton at WaltonBJ@Corning.com, or visit www.corning.com/ftth.
Image courtesy of flickr user Matthew Wilson.
Interested in publishing a sponsored post to Telecompetitor? Contact us or call 240-450-2161.