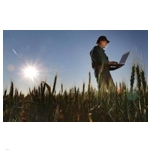 Perhaps unsurprisingly the Communications Workers of America union would like to see the FCC raise the target speed for the Connect America Fund to 10 Mbps from its current 4 Mbps – a move the commission has been considering for several months. That program aims to make several billion dollars available to the nation's largest price cap carriers to bring broadband to rural areas of the country where broadband is not available today.
"CWA represents the workforce at the largest price-cap carriers," wrote CWA President Larry Cohen in a letter sent to FCC Chairman Tom Wheeler on Friday. "Carefully balancing the CAF rules to encourage participation by the price cap carriers will support quality, career jobs in rural America and ensure that there is a qualified workforce immediately available to build, maintain and service CAF supported broadband networks."
Building out networks supporting 10 Mbps would be a bigger project than building 4 Mbps networks and, therefore, would create greater job security for carrier employees. Additionally the number of homes that would be considered unserved could increase substantially if the higher speed target were chosen.
CAF Target Speed Concerns
In the letter to Wheeler, the CWA also echoed some concerns expressed by some of the carriers, including AT&T, CenturyLink, Frontier and Windstream. "It is critical to the success of the CAF program that the commission carefully balance the 'three-legged-stool' of support, build-out rules, and service obligations . . . Changing one leg of the stool – the speed standard – without simultaneously making the build-out terms economically reasonable could lead some carriers to refuse to participate in the subsidy program in some or even all states, leaving rural communities behind. Therefore CWA supports the CAF Phase II rules that provide a longer build-out and funding period, as well as increased flexibility, such as a provision that would allow CAF providers to build to 95% of customer locations in CAF-supported census blocks."
The FCC plans to offer CAF support to price cap carriers in their local service territories based on a cost model. Carriers will decide on a state by state basis whether or not they will agree to accept the money in exchange for bringing broadband to unserved homes in the state. If the carrier declines to make that agreement in a state, funding for that state will be awarded to whichever service provider agrees to deploy service most economically.
According to the CWA, it would be best if the incumbent price cap carrier accepts the funding and agrees to do the build. As well as having a skilled career workforce, incumbent carriers can build on existing network infrastructure and will not be able to "cherry pick" where they will deploy broadband, the CWA noted. If, instead, funding were awarded through a competitive bidding process, winning carriers will be able to choose where to deploy broadband on a census block by census block basis.
At least one price cap carrier – Windstream – has said it is optimistic that it will be able to accept CAF funding for most of the states in its local service territory.
AT&T estimated in a filing with the FCC that three additional years of CAF support would enable the company to deploy 10 Mbps broadband if the FCC were to allow companies to build out less than 100% of the targeted homes, arguing that bringing 10 Mbps to some homes would not be economically feasible.
CenturyLink and Frontier argued in their own filings that the FCC should extend CAF funding and build-out periods to 10 years if it opts for the 10 Mbps target.