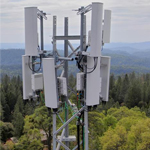 Cal.net, a broadband provider based in rural northern California, won $50 million in the Connect America Fund CAF II auction to provide service at speeds of 100 Mbps downstream and 20 Mbps upstream to 20,000 locations and plans to deploy fixed wireless to meet that commitment.
CAF II deployments will be made in three different spectrum bands – the 60 GHz and 5 GHz bands and in the CBRS band between 3.55 and 3.7 GHz, explained Cal.net CTO Ken Garnett in an interview. His comments illustrate substantial progress that has been made in fixed wireless technology, which would have been challenged to support such high speeds in the past.
"Most of our towers will use all three [spectrum bands]," explained Garnett. "Which customer gets which will be determined by how far away they are and how many trees we will have to go through."
In general, customers close to the tower will be served using equipment operating in the 60 GHz band, which can support service in the hundreds of megabits per second, Garnett noted. The most distant customers will be served via CBRS, he said. In between, Cal.net will use 5 GHz equipment.
The company has covered distances as great as eight miles using CBRS, although the technology only supports 100 Mbps out to about 2.5 miles, Garnett noted.
Cal.net also turns to CBRS in areas where trees interfere with a clear line of sight, he said.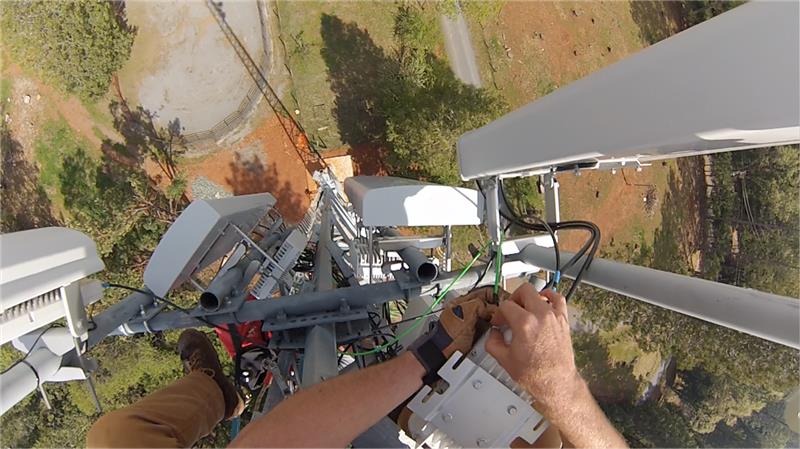 CBRS 100 Mbps Fixed Wireless
Wireless ISPs (WISPs) had been eagerly awaiting the opening of a large portion of the CBRS band for lightly licensed commercial deployments – a milestone reached earlier this year. The WISPs have been particularly enthusiastic about the possibility of using CBRS fixed wireless equipment that leverages LTE technology, with the goal of minimizing equipment costs by tapping LTE's economies of scale.
Cal.net will be using CBRS fixed wireless equipment from Nokia that uses LTE. I asked Amit Patel, CTO for U.S. major accounts for Nokia (who was on hand for the Cal.net interview), about the economics of the offering.
"If you [consider] the cost of spectrum, for sure CBRS [with] LTE is the most economical option," said Patel. For target areas, he noted that WISPs also have the option of bidding on licenses that will be issued for a portion of the CBRS band. Licenses will be auctioned on a county-by-county basis, potentially making them within reach of WISPs' budgets.
Nokia has been in conversation about its fixed wireless technology with CAF II winners and others, including WISPs and other types of companies – such as cable companies, mobile carriers and wireline broadband providers, Patel noted.
"There's a lot of pent up demand," he said.
He also noted that service providers in the future will be able to upgrade Nokia fixed wireless equipment to support 5G via software. While doing so would only increase broadband speeds about 10% to 15%, 5G also has the potential to support lower latency – a capability he said the providers might be able to monetize in the future.
Cal.net also plans to use a cloud-based IP core offering from ExteNet Systems to support its CBRS 100 Mbps deployments. ExteNet Vice President of Strategic Solutions Jason Osborne called the offering "infrastructure as a service" and noted that it eliminates the need for providers to invest in their own LTE evolved packet core (EPC).
Cal.net and TVWS
Telecompetitor talked with Cal.net back in 2013 about fixed wireless deployments the company had made using vacant TV spectrum known as TV white spaces (TVWS). In our latest interview, we asked Garnett for an update on the company's use of that technology.
He noted that the company uses TVWS for non-line of sight installations, adding that "CBRS will go through a few trees, but it won't go through a forest."
He noted that TVWS now provides "better speed, reliability and capacity" than it did when we last talked to him. He added, though, that TVWS won't support 100 Mbps speeds in most cases "unless you can aggregate a whole bunch of channels."
The technology, he said, "is for very specific situations where nothing else is feasible."