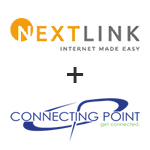 Texas-based Nextlink Internet, one of the largest winners in the Connect America Fund CAF II Auction, has acquired the internet service business of Connecting Point (ConPoint), a company based in Norfolk, Nebraska.
Connecting Point was established in 1987 and provides internet service, network management, workstation management and other services. In a press release, Nextlink CEO Bill Baker said Nextlink plans to expand Connecting Point's Nebraska service area and upgrade its existing network by the end of third quarter 2020.
Although Nextlink traditionally focused on providing fiber and fixed wireless broadband in Texas and Oklahoma, it plans to use the $281 million it won in the CAF II auction to bring broadband to unserved areas of six states, including Nebraska.
The auction awarded funding to the entity that offered to deliver broadband to an unserved area for the lowest level of support. Funding is awarded to the winners over a period of 10 years.
Nextlink Internet on a Roll
Nextlink has been on a roll recently. Just last month, Microsoft announced that Nextlink would be joining the Microsoft Airband initiative, which aims to bring broadband to unserved areas of numerous states. The initiative is using a mixture of technologies but has emphasized fixed wireless using vacant TV broadcast spectrum known as TV white spaces.
Telecompetitor talked to Nextlink CEO Bill Baker last year shortly after the company won the CAF II funding. Baker told us the Nextlink CAF win calls for the company to deploy service at speeds of 100 Mbps downstream to the vast majority of locations for which it won funding. A portion of the funding area calls for minimum speeds of 25/3 Mbps but Baker said Nextlink hopes to offer downstream speeds of at least 50 Mbps in those areas.
An interesting aspect of Nextlink deployments is that the company builds many of its own towers, which can also help improve cellular coverage in service areas by offering cellular providers somewhere to put their equipment.
A Nextlink spokesman confirmed that NextLink has received authorization on its CAF II funding. More than half of the $1.488 billion won in the auction has now been authorized. Authorization means the FCC has approved a company's long-form application and the company has received an appropriate letter of credit.