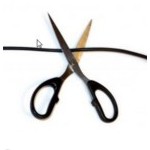 Cablevision, the New York based MSO with operations in the New York City metro area, has introduced an interesting package targeting cord cutters and cord 'neverers.' The package from this traditional cable TV provider offers no cable TV services and in fact, encourages customers to cut the cable TV cord. The move highlights shifting attitudes for both consumers and the video service providers who serve them.
Cablevision Cord Cutter Package
The new packages focus on broadband Internet, but also provide a digital antenna for customers to receive over-the-air signals for broadcast TV. One version is promotionally priced at $44.90 per month (not including equipment fees) and offers a 50 Mbps broadband service, the digital antenna, and access to Cablevision's Wi-Fi hotspot network. The cost for this service rises after the first year to an unidentified normal monthly charge.
A second value-based offer is priced at $34.90 per month (not including equipment fees) and includes a 5 Mbps broadband service, the digital antenna, access to the Wi-Fi network, and an account with Freewheel, Cablevision's Wi-Fi based mobile voice service.
Cablevision will also promote OTT video offers with these packages, including HBO Now. Cablevision is the first cable/broadband company to offer HBO's new OTT service.
Shifting Attitudes
"As a connectivity company, Cablevision is reimagining its relationship with its customers," said Kristin Dolan, chief operating officer, Cablevision in a press release. "Our new 'cord cutter' packages take a modern approach to traditional triple-product bundles and provide real alternatives that fit new consumer lifestyles."
Interesting choice of words, particularly, "…reimagining its relationship with customers." It's an attitude being shared by other cable companies, particularly smaller, independent cable companies. These companies now view themselves as broadband companies first. Increasingly, many are saying video is more trouble than it is worth, with its ballooning content licensing fees leading many providers to proclaim video an unprofitable business.
A growing number of consumers are seeing value in OTT video offers and are cutting the cable TV cord as a result. It's interesting to see companies like Cablevision not only embracing this trend, but perhaps encouraging it.
The move is also a "direct shot across the bow" to local broadcasters, who increasingly rely on retranmission fees for their local broadcast signal to maintain profitability. By providing digital antennas, Cablevision avoids having to pay those fees for every customer who chooses this plan. A bargaining chip in their favor for future negotiations for sure.