Cablelabs has released several specifications that will help define 10G service for the cable industry. Plans to support 10 Gbps speeds are driving the industry to rethink how networks are architected in much the same way that fiber and 5G plans are causing wireline and wireless carriers to rethink their own network architectures. And as the industries rethink these architectures, they are following paths that largely parallel one another.
The newly released Cablelabs specifications are for the flexible MAC architecture (FMA), the FMA MAC manager interface (MMI) and the FMA packetcable aggregator interface (PAI). As a Cablelabs blog post explains, FMA involves "the complete disaggregation of the CCAP management, control and data planes."
The CCAP, or converged cable access platform, is a cable modem termination platform. The FMA architecture aims to move away from purpose-built CCAP hardware to an open standards based approach – a goal that is quite similar to what various telcos are pursuing for their 5G and fiber networks.
The FMA specification "provides standard interfaces between OSS/NMS/orchestration and the FMA management and control planes as well as a standard interface abstraction layer to cable access equipment," the Cablelabs blog post explains. "All of this allows for vendor independence and equipment interoperability."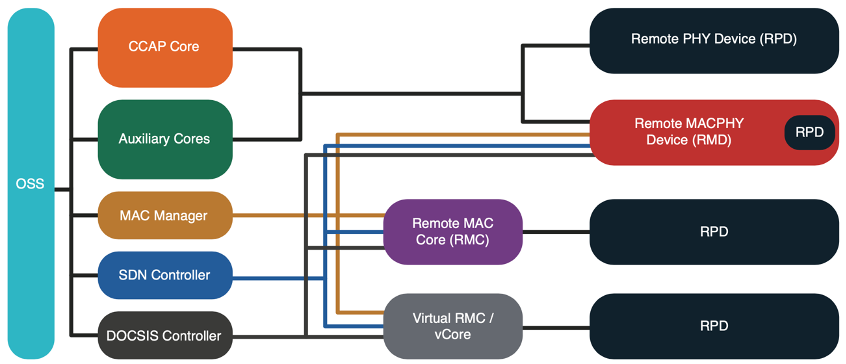 Replace the terms "FMA" and "cable access equipment" with telecom industry terms and the same wording could apply to telecom initiatives such as the AT&T disaggregated core router announced earlier this week or the software-defined 5G network that Dish is building.
Cablelabs 10G
Like the telcos, the cable companies also are looking ahead at how to meet endlessly increasing demand for internet bandwidth. The telecom industry NG-PON2 and XGS-PON standards support speeds up to 10 Gbps – a data rate typically only purchased by commercial customers today, but which residential customers also may want some day.
Cable companies also are looking at how to upgrade their networks to support 10 Gbps speeds, with the challenge being the upstream path. Cable networks initially were designed for much higher downstream than upstream traffic and maximizing upstream bandwidth has become increasingly challenging.
To support higher speeds, particularly on the upstream, some cable companies are looking to move to a distributed access architecture (DAA) that may involve splitting fiber nodes and, in some cases, deploying fiber deeper into the network. The DAA approach will require the deployment of additional CCAP functionality that the cable companies now want to virtualize.
The FMA project is one element that will support the DAA and virtualized CCAP initiatives.
The announcement of the FMA specifications came just a few weeks after a Cablelabs 10G demo project in an Iowa home demonstrated 10G's ability to support more than 70 internet-enabled devices.