Wireless will comprise 7.2% of Charter revenues and 8.2% of Comcast's cable segment revenues by 2025, according to a new cable wireless forecast from financial analysts at MoffettNathanson. The analysts raised a previous forecast as a result of several new developments, including cable company plans for the spectrum they won in the 2020 CBRS auction.
Also contributing to the revised forecast: The analysts estimate the terms of Charter's and Comcast's MVNO agreement with Verizon to be more favorable to the cable companies now than they were initially. And new multi-line pricing has made cable wireless service more attractive to a broader range of customers.
Cable Wireless Forecast
The cable companies' initial strategy in the wireless market was planned when the companies lacked wireless spectrum. The plan instead was to offload traffic onto their own public Wi-Fi infrastructure as much as possible and to fall back on the MVNO agreement with Verizon where that was not possible. Importantly, each cable company also offers service only within its own broadband/video service footprint and only to customers of those services.
The Wi-Fi First strategy appeared to be the secret behind Charter logging the fastest wireless service of all providers in recent speed tests. But MoffettNathanson offered a different interpretation of that data.
According to the analysts, the strategy of offloading traffic onto public Wi-Fi didn't work as well as the cable companies hoped, and Charter and Comcast have largely curtailed further investment in that area. However, because the cable wireless service is sold only to broadband subscribers, there is a greater likelihood that those using cable wireless will be able to shift to Wi-Fi while using their wireless devices at home.
In lieu of shifting traffic to public Wi-Fi networks, the cable companies now plan to shift traffic onto their own cellular wireless infrastructure in the most densely populated areas within their own broadband/video network footprint. Those are the areas where the cable companies won CBRS spectrum.
As they undertake these deployments, cable companies will have a significant cost advantage stemming from the strand-mounted small cells they will be able to use in areas where their coaxial distribution network is aerial, MoffettNathanson notes.
Strand-mounted small cells can be hung between poles, eliminating the need for zoning, permitting, fiber backhaul, separate power and costly labor for fiber splices and installation. The analysts estimate that deployment costs can be 90% less than for other small cell options.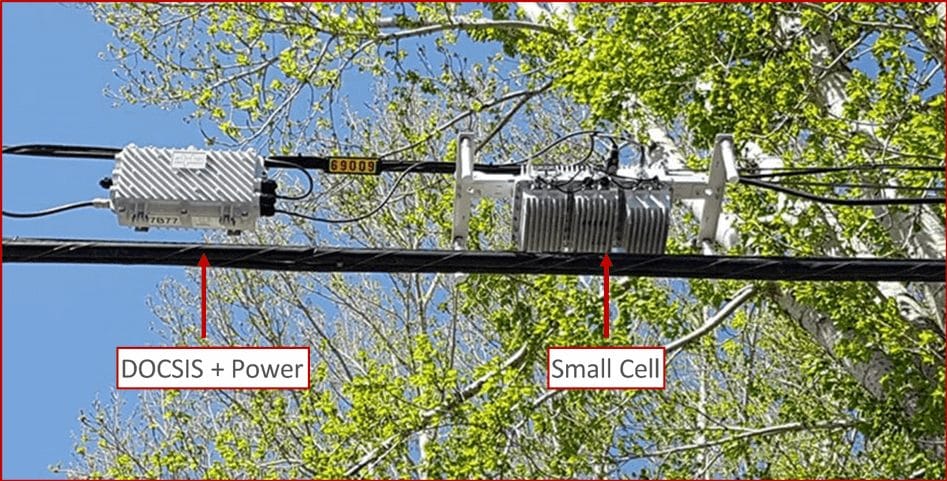 The cable companies won't be able to use strand-mounted small cells everywhere they have CBRS spectrum. In most urban areas, their distribution network is likely comprised of buried cable. And where the cable companies don't have CBRS licenses, they will continue to use the Verizon network.
Nevertheless, the cable companies should be able to shift about 10% to 20% of their traffic to their own cellular wireless network, which should improve their wireless economics considerably.
And by the time the cable companies have their own wireless networks operational, the majority of their customer base will have devices capable of using eSIM cards, which will enable the cable companies to direct traffic to their own CBRS networks, rather than to the Verizon network, the analysts note.
Some stakeholders were surprised to learn that after only a few years of offering wireless services, the cable companies are now picking up 30% of all new wireless customer additions. But the cable companies' wireless success is even more dramatic, considering that they only offer service within their own broadband/video footprints. MoffettNathanson estimates that the cable companies are picking up 60% of all new subscribers within those footprints.