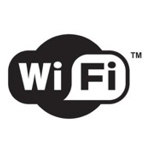 Combining their respective WiFi networks, Bright House Networks, Cablevision, Comcast, Cox Communications and Time Warner Cable announced they have created the largest WiFi network in the country. Tripling in size since being formed last year, the Cable WiFi Alliance's combined WiFi network now exceeds 150,000 hotspots in major cities across the nation, according to today's press release.
The WiFi partnership enables high-speed Internet customers from one provider to access hotspots run by the other Cable WiFi Alliance partners and other service providers. High-speed Internet subscribers of the respective service providers need to sign-on and authenticate their devices via the CableWiFi network service set identifier (SSID) using the same credentials they use to join their own provider's WiFi network.
Once authenticated, Alliance partner subscribers are able to connect to WiFi network hotspots across the U.S., including major metropolitan areas such as Atlanta, Austin, Baltimore, Boston, Charlotte, Chicago, Kansas City, Los Angeles, New York, Orlando, Philadelphia, Tampa, San Francisco and Washington D.C.
A nationwide coverage map is available on each Alliance partner's website. Subscribers can also locate Cable WiFi hotspots by downloading a WiFi Finder app for their mobile device from their service provider's website.
Cable WiFi implementation began in May, 2012. Indoor and outdoor WiFi hotspots have now been rolled out in high-traffic locations such as shopping districts, cafes, malls, sports and concert arenas, restaurants, parks and beaches.
Commented Cablevision's senior vice president of Broadband Product Management Gemma Toner, "At Cablevision, we see firsthand how much usage and convenience WiFi delivers to our customers, which is why we have long been a proponent of this value-added benefit. When we partner with other cable operators in this expansion of Cable WiFi, it gives our Optimum Online customers even greater access to wireless Internet service."
Added Comcast Cable senior vice president of Business Development Tom Nagel, "WiFi is a key component of our efforts to deliver Xfinity Internet customers the fastest and most reliable Internet connection, both inside and outside of the home.
"With the ubiquity of wireless technology in consumer devices, our customers have the benefit of being able to access the largest WiFi network in the U.S. to connect them to family, friends and the information they need."