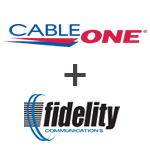 Cable ONE's plan to purchase Fidelity Communications, announced today, includes operations in Arkansas, Illinois, Louisiana, Missouri. Oklahoma and Texas. The Cable ONE Fidelity deal encompasses more than 5,100 plant miles and over 1,600 fiber route miles in a network that passes 190,000 homes.
Cable ONE is the seventh largest cable operator in the U.S., with more than 800,000 customers in 28 states. Fidelity Communications traces its roots back almost 80 years, starting out as a small telephone company and later adding cable operations and expanding substantially through several key acquisitions.
Both companies focus on tier two and tier three markets. It's the second acquisition for Cable ONE in less than six months. The operator acquired Clearwave, primarily for its business customer base and fiber assets, back in November 2018.
Cable ONE Fidelity Acquisition
"Fidelity is a fantastic geographical, cultural and business fit," said Cable ONE President and CEO Julie Laulis in a press release. "Its operating philosophy and customer-centric focus are similar to our own."
According to Laulis, some of the Fidelity operations are "within or near" Cable ONE's existing footprint, and Cable ONE sees future growth opportunities that "make this an exciting acquisition."
Fidelity has 114,000 residential primary service units (PSUs) and 20,000 business PSUs. Some multi-play service providers use the PSU metric to account for the fact that some customers may purchase multiple services, usually broadband, video and voice.
Announcements about communications acquisitions often have little or no financial information but the news about Cable ONE and Fidelity included considerable financial detail, including a purchase price of $525.9 million and various ways of calculating the value, expressed as a multiple of Fidelity's last quarter annualized (LQA) earnings before interest, taxes, depreciation and amortization (EBITDA):
11.7x after taking into account estimated run-rate cost synergies and the present value of anticipated tax benefits
8.8x after assuming the immediate realization in full of $15 million in estimated run-rate cost synergies but before adjusting for the present value of anticipated tax benefits
7.3x after adjusting for the present value of anticipated tax benefits and assuming the immediate realization in full of $15 million in estimated run-rate cost synergies
Additional details about the Cable ONE Fidelity purchase can be found in this press release. Cable ONE has made the shift to a broadband operator, with diminishing emphasis on video. It will be interesting to see how the company executes that strategy with Fidelity. It's led Cable ONE to rebrand itself, announcing it will begin going by the name Sparklight sometime this Summer, in recognition that it really no longer is a traditional cable company.
The Cable ONE Fidelity deal is the latest example of consolidation in tier two and three markets. Other examples include WOW's 2016 acquisition of Nulink, the 2016 acquisition of both RCN and Grande Communications by a venture capital firm, and the 2018 CountryWide Broadband/ Full Channel deal. Traditional telecom operator TDS has also been quite active with cable company M&A, and invested significantly in upgrading its cable footprint.
Bernie Arnason contributed to this post.