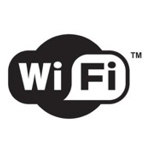 NCTA – The Internet & Television Association sent a letter to the FCC yesterday urging the commission to free up spectrum in the 5.9 GHz band for unlicensed use to support faster Wi-Fi. According to NCTA, 5.9 GHz Wi-Fi "would also be an essential step in advancing 5G and the next generation of broadband" because it would enable high-speed 5G and broadband bandwidth to be distributed across multiple devices within a home or business.
The 5.9 GHz band consists of 75 MHz of spectrum between 5725 and 5825 MHz. The band was allocated back in 1999 for dedicated short-range communications (DSRC) to support intelligent transportation systems communications but, as the NCTA noted in its letter, there are very few incumbent deployments in the band and technologies such as cellular-V2X can provide equivalent functionality in existing cellular bands.
"After nearly two decades, on any given day, it is likely that there is not a single active DSRC radio in the 5.9 GHz band in almost any U.S. zip code," NCTA stated in the letter to the FCC.
Meanwhile, the demand for Wi-Fi connectivity has skyrocketed. And while the latest Wi-Fi standards 802.11ac and 802.11ax can support gigabit speeds, NCTA noted that they require 160-MHz channels to do so and "today Americans have no access to a contiguous 160-MHz channel unconstrained by burdensome dynamic frequency selection limitations."
5.9 GHz Wi-Fi
Freeing up at least a portion of the 5.9 GHz band for unlicensed use would be particularly advantageous for Wi-Fi because of its proximity to existing unlicensed spectrum in the 5 GHz band, which is already used for Wi-Fi. Making the 5.9 GHz band available for unlicensed use would enable the broadband industry to "bring the band online almost immediately for consumers," NCTA noted.
"[M]uch of the Wi-Fi equipment deployed in the field today already could support 5.9 GHz and enable access to the band with software or firmware changes," the letter stated.
NCTA summed up its arguments for 5.9 GHz Wi-Fi by saying "[t]he FCC should recognize that maintaining a speculative island of specialized automotive radios between an existing and a potential future home for unlicensed operations is bad spectrum policy and a disservice to the public interest."
The association asks the FCC to issue a further notice of proposed rulemaking or "other appropriate vehicle" to "designate all or a substantial portion of the 5.9 GHz band for unlicensed use under technical rules that will enable robust Wi-Fi deployments."
The cable companies that NCTA represents are particularly interested in 5.9 GHz Wi-Fi because they have begun to deploy mobile services that rely on Wi-Fi where available, falling back on cellular connectivity purchased from a wireless carrier where Wi-Fi is not available.