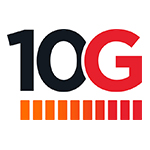 Gigabit broadband arrived on the scene as an industry trend courtesy of Google Fiber and other fiber broadband providers like EPB. The Cable industry was somewhat late to the game. It's a mistake they don't want to make again with 10 Gig and so a new Cable 10G program has been hatched. The fact that 10G is 'double' that of 5G is also attractive.
An industry consortium of NCTA, CableLabs, and Cable Europe have gone so far as to establish a 10G brand, calling it the next leap for broadband. The cable industry claims to be able to offer gigabit broadband to 80% of the U.S. today, thanks in large part to efforts from Comcast, Cox, and Charter. Smaller cable MSOs have been active in gigabit capability as well, which relies primarily on DOCSIS 3.1 technology.
CableLabs, the R&D consortium of the cable industry, is spearheading the technical capability to bring 10G to market. Technically speaking, CableLabs is touting CableLabs DOCSIS Provisioning of EPON (DPoE), full-duplex DOCSIS 3.1, and Full Duplex Coherent Optics technologies as all potentially playing a role in this cable 10G program.
Intel, a technology partner in the 10G program, sums it up as the 10 Gigabit Full Duplex DOCSIS standard (also referred to as 10g FDX). The goal is to deliver 10G over existing coaxial networks. Lab trials of these technologies are already underway, says Intel.
"With groundbreaking, scalable capacity and speeds, the 10G platform is the wired network of the future that will power the digital experiences and imaginations of consumers for years to come," said NCTA President and CEO Michael Powell in a prepared statement. "As an industry, we are dedicated to delivering an exceptional national infrastructure that will power digital advancement and propel our innovation economy into the future."
The Race to 10G
This new cable 10G program is aiming to get ahead of upcoming 10 gig capable services coming from the fiber broadband industry. Large fiber incumbents including Verizon, AT&T, Frontier, and CenturyLink have already identified their path to 10G, primarily through either XGS-PON or NG-PON2 (Verizon) technologies.
Google Fiber is exploring their SuperPON technology for 10G and other fiber players are also active on the 10G front. OzarksGo, a broadband subsidiary of Ozarks Electric Cooperative has already installed 10G capable NG-PON2 equipment.
The inevitable question of why 10G already, when providers have a hard-enough time convincing subscribers to take 1 Gbps service is sure to be asked. Part of this new cable 10G program is to educate and convince the industry and the public of the pending need for 10G. Eventually anyway.
The program includes insight and materials around how we will work, play, learn, and live in a 10G world. The consortium is unveiling the program at this week's CES show in Las Vegas on Wednesday.
"Based on the double-digit bandwidth usage growth that we continue to see every year, we know our customers and the industry are ready for the next step in network innovation," said Phil McKinney President & CEO of CableLabs in a blog post. "The 10G platform will enable creators and innovators to fulfill their dreams while providing reliability and security that consumers can trust."
Of course, creating a brand around 10G and labeling it the 'next leap for broadband' by the mainly wired cable industry may help slow the hype cycle for 5G, which currently dominates the future of broadband discussion. At least I'm assuming that's one of the desired goals here. But good luck with that.
The mobile industry has a pretty significant head start on the public's mind share with 5G. It will be incredibly expensive to slow that down and may just add more confusion. But then again, maybe that's part of the plan.