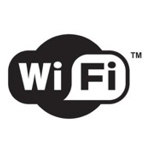 All of the wireless discussion surrounding the cable industry tends to focus on WiMAX initiatives by cable companies through their Clearwire connection. Cox also gets a look thanks to their own wireless efforts, including some recent noise on LTE and 4G. But to date, Wi-Fi is really the more interesting discussion.
Cable companies, large and small, have been using Wi-Fi to build a 'portable broadband' offering that allows subscribers to access broadband wirelessly within the community. Among the larger cable MSOs, Cablevision's Wi-Fi strategy receives the most attention. And for good reason. Cablevision credits their Optimum Wi-fi product as a key competitive weapon against Verizon and their FiOS triple play offering. In fact Cablevision has held up quite well in the face of FiOS competition. They recently announced that Wi-Fi sessions on their network are averaging 400K per week.
But Wi-Fi within the cable industry is not just for the big boys. Sunflower Broadband, a Lawrence, Kansas based rural cable MSO has also embraced Wi-Fi. Sunflower has deployed approximately 65 Wi-Fi hot spots across their rural Kansas footprint. They recently expanded this service to allow more marketing capabilities for their hot spot location partners. "These enhanced services will also create stickiness for our high speed data products, and produce new revenue from advertising and expanded service level offerings," said Karin Woodard, Director of Business Development and IT for Sunflower Broadband in an Arris press release.
Sunflower is but one example of smaller cable MSOs that use Wi-Fi to broaden the capabilities and appeal of their broadband product. Despite the noise surrounding WiMAX, 3G, and LTE, Wi-Fi continues to be a very capable wireless broadband option. It's a worthwhile complement to wireline broadband – providing a 'broadband to go' experience.