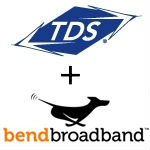 Telephone and Data Systems' plan to acquire Oregon-based BendBroadband announced late yesterday was motivated by the desire to obtain BendBroadband's cable assets and expertise, TDS said.
"BendBroadband's culture of innovation and its attractive market demographics make it a strategic addition to our cable, broadband and data center portfolio," said LeRoy T. Carlson, Jr., Telephone and Data Systems president and CEO, in the announcement.
By "attractive demographics," a TDS spokesperson told Telecompetitor in an email that the Bend community has been growing fast and has an "entrepreneurial spirit."
"We see great promise in this community as it continues to build and grow," the spokesperson said. "It has a thriving year-round tourism industry and significant population of affluent retirees." There are also more than 7,000 businesses in the area, according to TDS.
As of year-end 2013, BendBroadband passed approximately 79,000 homes and businesses, with approximately 36,000 video subscribers, 41,000 high-speed broadband subscribers and 22,000 digital voice subscribers. If you run the numbers, the company has achieved take rates of 45%, 52% and 28%, respectively for those services. But considering that the company is the only one providing video service in the area (other than the satellite providers), there could still be considerable room for growth.
TDS/ BendBroadband Deal is Latest in String of Purchases
TDS has made numerous acquisitions in recent years, initially focusing on data center operators primarily located near its traditional Midwest serving territory.
More recently the company ventured further afield with its purchase of Baja Broadband which, unlike previous TDS acquisitions, was focused on cable and broadband and was located in the Southwest.
Earlier this year Carlson told people at an investor conference that he was "delighted" with how the Baja Broadband acquisition had played out, noting that Baja Broadband has "wonderful demographics" and will be a "growing asset well into the future." He also noted that TDS is spending a relatively low amount in capex toward the Baja Broadband business in comparison with the revenues the business is generating.
It would appear that TDS also will not have to make major capex investments to support BendBroadband either, as BendBroadband was one of the first small cable companies to upgrade to DOCSIS 3.0.
TDS's traditional video strategy has been to sell satellite service. Additionally the company has ventured into IPTV in markets where it has deployed fiber to the home or short-loop DSL.
Besides its cable and broadband infrastructure, BendBroadband's other assets include a cable and advertising and broadcast business called Zolo Media and BendBroadband Vault, a Tier III data center.