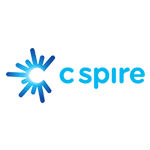 C Spire, Entergy Mississippi and the Mississippi Public Service Commission this week held a ceremony at the Ross Barnett Reservoir commemorating the completion of a project that will bring advanced broadband services to rural Mississippians.
The $11 million project took 18 months to complete. It spans more than 300 miles in 15 counties and is aimed at helping to meet the state's education and healthcare needs. It also will modernize Energy Mississippi's grid infrastructure by enabling a modern communications network interconnecting that infrastructure.
"A robust, all-fiber broadband infrastructure is essential to move Mississippi forward by paving the way for a digital economy, fostering innovation in education and healthcare, creating job opportunities and improving the overall quality of life for residents and businesses," C Spire CEO Hu Meena said in a press release.
The project included drilling 40 feet under a lake bottom to connect a 6,585-foot section between Highway 43 on the southeast end of the reservoir and Pipeline Road on the northwest side of the lake. The span is the longest in C Spire's history.
In all, C Spire installed fiber cable and related infrastructure along five routes that pass 21 communities in the state. More than 4,000 homes and 1,000 business are within 500 feet of one of the five routes. The breakdown:
Delta: a 92-mile route through Sunflower, Humphreys, Madison and Hinds counties and near the cities of Indianola, Inverness, Isola, Belzoni, Silver City, Yazoo City, Bentonia, Flora and Jackson.
North: a 51-mile stretch in Attala, Leake and Madison counties near the towns of McAdams, Kosciusko and Canton.
Central: a 33-mile route through Madison, Rankin and Scott counties near the towns of Canton, Sand Hill and Morton.
Pine Belt: a 77-mile route through Simpson, Jefferson Davis, Lawrence and Walthall counties and near the towns of Magee, Prentiss, Silver Creek, Monticello and Tylertown.
Southwest: a 49-mile stretch in Franklin and Adams counties near the communities of Bude, Meadville, Roxie, Natchez and Eddiceton.
C Spire has had a busy year. Earlier this month, the company said it would expand gigabit service to areas in Alabama including Birmingham and Shelby county. Work will start next year. Other moves by the firm: