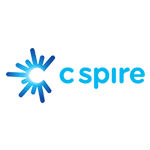 C Spire is touting the "real 5G speeds" of its mobile network. The company has not yet deployed 5G. Nevertheless, it is claiming "5G-equivalent" speeds up to 200 Mbps.
"There's a lot of noise when it comes to 5G. Instead of joining in, we're cutting through it by delivering 5G-level speeds today, powered by our exclusive fiber technology," reads a C Spire web page that has a prominent headline saying "Real 5G Speeds. Right now."
Some would disagree with the assertion that C Spire isn't joining in on the 5G hype and would argue that the company instead is adding to the noise and confusion about the technology. Is calling your service "5G-equivalent" much different from AT&T's 5Ge, or 5G Evolution, branding – the company's name for service based on enhanced LTE technology and which created considerable controversy for AT&T?
However one feels about C Spire's positioning, though, speeds up to 200 Mbps are impressive.
C Spire 5G-Equivalent Service
A C Spire press release touting the company's high mobile speeds attributes the speeds to a range of enhancements the company has made to its network, including:
Carrier aggregation using multiple Band 41 carriers
Increased cell site antenna capacity using advanced features such as 12-layer MIMO
Improvements in spectral efficiency using 256 QAM
Overall network optimization for balanced data delivery
This list is quite similar to the technology that underlies AT&T 5Ge. Yet while Opensignal researchers found that AT&T 5Ge delivers faster service in comparison with plain old LTE, the average speed for 5Ge as of March 2019 was about 28.8 Mbps – considerably less than C Spire's 200 Mbps upper limit.
Behind C Spire 5G-Equivalent Service
The answer to why C Spire's service is faster may lie in the first bullet about carrier aggregation using multiple Band 41 carriers. Band 41 includes spectrum between 2500-2690 MHz – making it mid-band spectrum, which according to some industry observers, offers the optimum mixture of bandwidth and coverage. It's the same band that Sprint is using for the 5G deployments it has made in several markets, and Sprint's experience supports that belief. Sprint is not getting the broad 5G coverage that T-Mobile achieved with its low-band deployment, but Sprint is getting considerably faster speeds than T-Mobile. And while Sprint's speeds don't match those of AT&T and Verizon deployments using high-band millimeter wave spectrum, Sprint's coverage is better in comparison with AT&T and Verizon.
Bandwidth depends not only on the spectrum band used, but how much spectrum is used. And C Spire has quite a lot of spectrum underlying its mobile service. A C Spire spokesman told Telecompetitor that the company is using three carrier aggregation or 60 MHz in total – which also helps explain the high speeds the carrier is touting.
AT&T's 5G Evolution offering relies on three- or four-carrier aggregation, but perhaps the individual carriers are narrower than C Spire's. Also, AT&T reportedly has deployed LTE primarily in the 700 MHz and AWS-1 bands, both of which are lower-frequency in comparison with the Band 41 spectrum that C Spire is using.
Whatever readers think of C Spire 5G-equivalent claims, it's worth noting that as C Spire makes the upgrades underlying those claims, the company is also preparing its infrastructure for 5G – which means the company should see speeds even higher than 200 Mbps whenever it rolls out 5G, making for a highly competitive 5G offering.