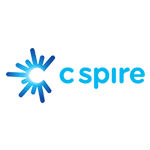 New enhancements to the C Spire LTE network have the regional wireless provider talking peak speed capabilities of up to 100 Mbps, up from the current 5 to 12 Mbps. C Spire, the nation's sixth largest wireless carrier began the enhancements in March.
The new C Spire LTE capability comes as a result of carrier aggregation techniques, found in LTE-Advanced technology. C Spire's network is built on LTE TDD technology and operates in 700 Mhz, 850 Mhz, and 2.5 GHz bands. This new carrier aggregation approach is in band 41 of their 2.5 GHz spectrum.
"This technology allows us to surgically target network improvements in places where we need more reliability, capacity and the right speeds," said Alan Jones, C Spire senior vice president of network engineering and development in a press release.  "It's important to make sure our network has the capacity and peak speeds that our customers want and need."
Enhanced C Spire LTE deployments began in their Cleveland, Collins, Columbus, Greenville, Hattiesburg, Laurel and Louisville, Mississippi markets, and now reaches over 40 cities in their footprint. These deployments are not intended to be broad based across their entire network, but rather target high traffic areas.
"Our deployment of Band 41 is meant to be very surgical so we are looking more to cover some of our hotspot areas that are a small percentage of our overall broad network," a C Spire spokesperson tells Telecompetitor. "This is unlike our low band roll out that was meant to complement our entire footprint."
C Spire currently supports 13 devices that can take advantage of this technology, including the Samsung Galaxy S6, S7, and S8 smartphone line. Newer devices will support carrier aggregation as well.