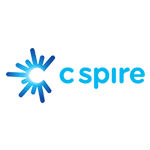 C Spire announced an expansion of fiber-based gigabit broadband service to several more areas in Alabama, including Birmingham, Shelby County and other areas. Construction is expected to begin next year.
C Spire says it is the largest privately owned wireless communications operator in the United States. But the company has a wireline division providing fiber-based broadband and data center services. C Spire has focused primarily on smaller markets with those services, where the company has little or no competition for high-speed broadband. Nevertheless, the company said it expects success in the more competitive Birmingham market.
C Spire is working to identify communities that will get services first using an approach to the fiberhood strategy that Google Fiber used a decade or so ago when it first deployed gigabit service. C Spire leverages the CrowdFiber platform for this approach.
"The communities that want this game-changing infrastructure and services the most will get it first," C Spire CEO Hu Meena said in a press release.
C Spire said that it already serves consumers, businesses and local and state government operations in the state and has boosted connection speeds by 200% since 2014.
C Spire has been active in recent months:
Joan Engebretson contributed to this report.