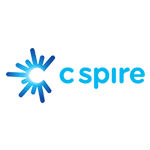 C Spire gigabit services are a focal point of their Tech Movement initiative, which will get its start in Tupelo, Miss. C Spire kicked off the initiative this week with meetings between Tupelo, Miss. business owners, Mayor Jason Shelton and C Spire executives.
Tupelo is one of at least 24 cities targeted for these advanced services by C Spire. C Spire intends to offer business gigabit services for the disruptive price of as low as $200 per month, according to a C Spire press release. C Spire invited close to 1,300 local businesses to meetings this week to explain the Tech Movement initiative.
C Spire's goal is to make the service available to 20% of the Mississippi's 250,000 businesses. The company has more than 8,000 route miles of fiber and claims to have deployment more wireless spectrum in the state than any other provider. The latest initiative is an outgrowth of an FTTP program, which launched in 2013.
Tupelo, the first target for the new program, has been divided into six "fiberhoods," which are areas within several hundred feet of C Spire's buried fiber. The 3,300 businesses close to these designated areas can get FTTP gigabit service, provided there is sufficient interest to extend the fiber, the press release says.
Overall, C Spire plans to server more than 250,000 residents and business with a 25 Mbps in underserved areas, 100 Mbps in other communities and 1 Gbps for business capable of using fiber and fixed wireless technologies.
C Spire is not the only provider working to bring gigabit service to Mississippi. In August, MaxxSouth Broadband completed upgrade of its network to provide as much as 1 Gbps to the college towns of Oxford (University of Mississippi) and Starkville (Mississippi State University)