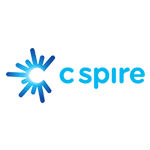 Regional broadband provider C Spire announced an ambitious broadband plan that will dramatically increase their broadband base throughout Mississippi. The C Spire fixed wireless program is key to the broader C Spire Tech Movement which has a goal of reaching an additional 250K subscribers with wireless and FTTP technology.
The program will utilize an 8K route mile fiber backbone throughout Mississippi to expand their broadband footprint. Eighty percent of the expansion, or 200K subscribers, will be delivered by fixed wireless, with the remaining via FTTP, a C Spire spokesman confirmed to Telecompetitor.
The fixed wireless service will initially be launched in eight 'underserved' Mississippi communities, with dozens more to follow by the end of the year, according to the spokesman. C Spire is using a variety of fixed wireless technologies and spectrum for the service, said the spokesman.
"As the state's leading technology company and one that gets its inspiration from our loyal customers, we have a responsibility to marshal our resources and expertise to equip our communities to effectively compete in the technology revolution and help close the gap on the digital divide," said C Spire CEO Hu Meena in a press release announcing the expansion.
Wireless Fiber
C Spire calls their fixed wireless product wireless fiber, and it's expected to provide 25 Mbps service. "Unlike competitors that are rolling out fixed wireless products of 10 Mbps as part of the FCC Connect America Fund commitment, our initial privately funded roll out will have typical throughput of 25 Mbps, a speed the FCC defined in 2015 as basic broadband Internet," the C Spire spokesperson tells Telecompetitor.
They do expect those speeds to increase over time. "We have seen in many trials a future for 1Gbps fixed wireless.," said the spokesperson.
An additional 50K subscribers hope to be added via FTTP, according to the spokesperson, but he declined to reveal current FTTP subscriber counts, only saying it's "in the thousands."
C Spire aims to target small business customers as well through the Tech Movement initiative. "C Spire aims to make the ultra-fast service available to one out of every five of the state's 252,000 small businesses," the press release states. "The initiative also includes programs to prepare and equip consumers and businesses to be successful in the new technology economy through education and workforce training, fellowship programs and showcasing the latest advancements and innovations in robotics, artificial intelligence, virtual reality and the Internet of Things."