C Spire is adding 15 community colleges to the Mississippi Optical Network (MissiON). The MissiON network is the research and education network supporting universities in the state.
The 15 community colleges – which are not identified in the press release – will gain additional capacity and fully redundant connectivity to commodity Internet services and state university research programs, according to C Spire.
C Spire has been quite involved with MissiON, having previously added universities to the network and "enhanced connections" to the network for others.
The MissiON network facilitates collaboration among Mississippi's research universities, regional universities and community colleges and provides access to resources in the ITS State Data Center and C Spire data centers that are located in Jackson and Starkville.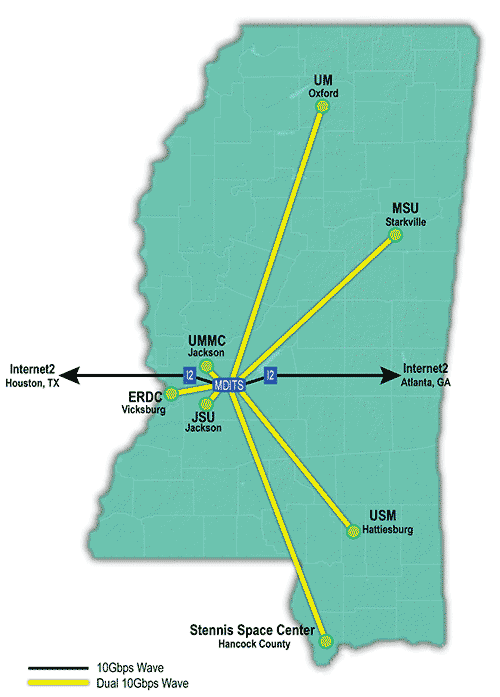 Community colleges in the state had been considering joining MissiON and made the final decision to jump on in the face of the COVID-19 pandemic. The move will support distance learning for more than 200,000 students in the community college system, according to a press release.
"We've deployed a high performance, geographically diverse network and offer the community colleges speeds up to 100 Gigabits per second (Gbps) with plans to expand to 400 Gbps and beyond in the future," C Spire CEO Hu Meena said in a press release about the latest C Spire MissiON initiative. "This is a world-class network that fully supports MissiON's important research objectives now and well into the future."
C Spire is quite active in upgrading Mississippi's telecommunications infrastructure. For instance, the company is partnering with Entergy Mississippi and the Mississippi Public Service Commission on an $11 million broadband project that took 18 months to complete. The project featured installation of cable and related infrastructure along five routes that will bring enhanced services to 21 communities. More than 4,000 homes and 500 businesses are within 500 feet of one of the five routes.
The company also has upgraded more than 250 cell sites in 41 counties in the state. That project, which began in February 2019, followed the change out of base stations and software at all its more than 1,200 cell sites.
Joan Engebretson contributed to this report.