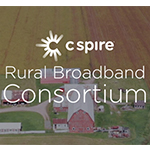 Most Telecompetitor readers are already sold on the benefits of ubiquitous broadband. But that's not necessarily true of the broader U.S. population, including those who may not recognize what it means to lack broadband as many rural areas do today or, conversely, the breadth of rural broadband benefits.
This reality undoubtedly was a driving force behind the creation of a new white paper and website from a consortium comprised of Mississippi-based service provider C Spire, Microsoft and several wireless equipment providers.
"Those with broadband internet tend to have an advantage over those without, and the people least likely to have broadband access live in rural areas," according to the white paper, titled "Understanding the Rural Broadband Problem."
C Spire can trace its roots back to the 1950s when it started out as a local exchange carrier, later adding cellular service. In recent years, it has broadened its scope to include building middle-mile fiber and fiber-to-the-home networks and data centers and also offering a wide range of residential and business services throughout Mississippi and other parts of its service area. Some of these buildouts were undertaken with the goal of spurring economic development in those areas.
C Spire's Chief Innovation Officer Craig Sparks told Telecompetitor early this year that the company hoped that in some areas, once it had deployed middle-mile fiber, other service providers would deploy last-mile broadband to connect to those networks and from there, to the broader internet. But when last-mile deployments from other network operators didn't occur as broadly or quickly as anticipated, C Spire formed the consortium with the goal of spurring those deployments.
C Spire sees fixed wireless playing a key role in those last-mile deployments and enlisted wireless vendors Nokia, Airspan and Siklu to take part in the consortium. Although not known primarily for fixed wireless, Microsoft also has been a strong advocate for the technology through its Airband initiative. That company's role in the consortium will be to spur broadband adoption through digital skills initiatives.
While the white paper and website are the initial deliverables from the C Spire consortium, the consortium also is engaged in "research and development of several potentially disruptive service solutions," according to a press release. The website will be home to future updates about these R&D efforts, which include TV white spaces, massive MIMO using Band 41 LTE spectrum and C Spire's own 5G internet product.
When we talked to Sparks, he told us that another key deliverable from the consortium would be "really highly automated design and planning tools" that could simplify the deployment of last-mile technology, potentially enabling electricians, general contractors or other local stakeholders to undertake these deployments.
Rural Broadband Benefits
Rural broadband benefits and implications argued in the white paper from the C Spire consortium include:
Internet usage is common at college and even K-12 education is increasingly online. An understanding of computers and the internet as well as coding are fundamental and should be required for students to learn before graduating high school.
As people enter the workforce, even non-technical jobs require internet access and a certain level of fluency. And searching for a job increasingly occurs online, with some companies requiring applicants to take tests online.
Local businesses that don't have an online presence lose business. Amazon has made online shopping easy, and other businesses need to offer that option to remain competitive.
In rural areas, clinics and hospitals can be an hour or more away, and primary care doctors and specialists may be many hours away, which may prevent rural residents from seeking treatment when they should. Broadband can support telehealth initiatives to address this issue.
Precision agriculture can reduce costs and maximize yields but requires internet connectivity.
Mississippi Broadband Availability and Adoption
The lack of rural broadband is particularly acute in Mississippi, which is ranked 47th among the 50 states in urban population and where approximately 28% of residents lack access to fixed broadband, according to the white paper. In rural counties, approximately 68% of Mississippians lacked fixed broadband access as of 2015.
Even those who have access to broadband in Mississippi often don't use it, as data from Microsoft illustrates.
While 72.3% of Mississippi counties have access to broadband, according to the FCC, only 17.8% of residents use it, according to Microsoft's data. And while the discrepancy may be based, in part, on problems with how the FCC collects broadband availability data that tend to overestimate broadband availability, that likely doesn't explain the whole gap. A particularly glaring example comes from Tishomongo County, where the FCC shows 97.1% of residents having broadband availability, while only 3.6% use it, according to Microsoft.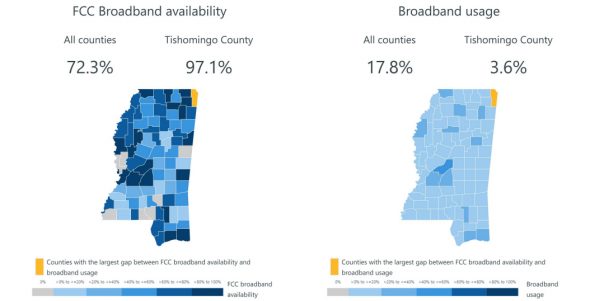 This information not only illustrates the importance of correcting the FCC data, it also illustrates the importance of broadband adoption initiatives, such as those Microsoft will be undertaking in connection with the C Spire consortium.