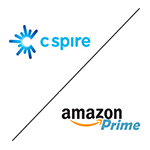 C Spire is offering a premium from one of the most popular consumer companies in an attempt to attract new customers. The Mississippi-based regional carrier is awarding new customers a one-year subscription to Amazon Prime, normally priced at $119 annually. The only requirement for the C Spire Amazon Prime offer is that the customer activates a new line with an eligible data plan on the wireless provider's 4G LTE network.
Among other things, Prime provides customers with free two-day shipping, video content and more than 100 million products for sale online.
C Spire Amazon Prime Offer
C Spire said that promoting a digital lifestyle fits in with the C Spire Tech Movement initiative, launched last fall. The initiative is designed to leverage the company's technology leadership and investments to help transform its service areas.
Other elements of the initiative include leading the development of a high-tech workforce in Mississippi through education initiatives and related efforts, expanding tech innovation and education in the areas of robotics, artificial intelligence and IOT and development of a state-of-the-art digital customer experience platform.
"By 2020, analysts predict that most consumers will manage 85 percent of their relationship with a company online," said Brian Caraway, general manager of the company's wireless unit, in a prepared statement. "Offering consumers these types of digital transformation benefits are another way for C Spire to add value to the overall experience."